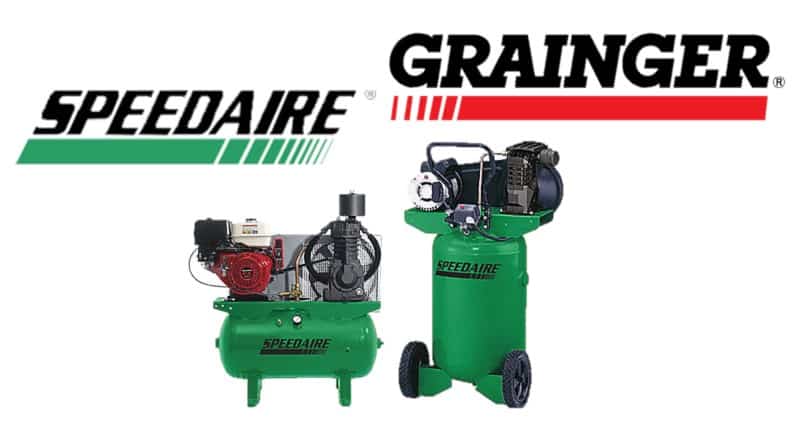 If you're in the market for a new air compressor – whether it be your first, a replacement for your current compressor, or simply an addition to your current equipment – understand that there are many variables to consider. The thing is, you can find air compressors in many shapes, sizes, capacities, and from many different brands.
While size and capacity are factors that are completely up to you and your workload needs and preferences, there are some brands that are the cream of the crop; they simply perform much better than others or at least have a better reputation than the rest. In the realm of air compressors, Speedaire air compressors are some of the best around.
So as you shop for your new air compressor machine, make sure that you're on the lookout for air compressors by Speedaire. If you have no idea what Speedaire is, to begin with, no worries – we're here to help. Let's take a look at what Speedaire compressors are and who makes them. Having this knowledge will help you make the best decision as you shop around for your new compressor machine.
Who Makes the Speedaire Air Compressor?
While it is sold as its own line of products, the Speedaire brand is actually a subsidiary brand of the industry giant Grainger. If you didn't know, Grainger (or W.W. Grainger, Inc.) is an American Fortune 500 company in the industrial supply industry. A long-time operator in the field, Grainer has been providing a wide range of high-quality tools and motors for personal and commercial needs since 1927. In short, the company is reputable and knows what they're doing.
As mentioned above, Speedaire is a subsidiary brand under the Grainger family of brands. According to the Grainger website, the Speedaire brand "offers a complete pneumatic system, and they are interchangeable with the components you are already using. There are thousands of products to choose from that are a powerful combination of performance and value."
What is the Speedaire Air Compressor?
Rather than being a single and specific product, Speedaire makes a range of air compressors. The brand's air compressor machines are available in a wide range of sizes, capacities, and purposes. As of right now, the Speedaire brand currently offers mostly portable air compressors, which are smaller and more compact in size. These portable air compressors are usually available in the range of anywhere between the power capacities of .33 CFM (cubic feet per minute) and up to roughly 10 CFM.
However, the subsidiary brand does offer larger air compressor machines as well. Speedaire's stationary (non-portable) electric air compressor machines are available in anywhere between roughly 20 CFM and up to around 100 cubic feet per minute (CFM). Since the power capacity ranges so widely, these stationary electric air compressors come available in a wide range of tank and motor sizes.
While the Speedaire brand sells mostly air compressors, it also offers a full range of parts and accessories for air compressors, such as compressor pumps, coupler plugs, filters, air guns, and other helpful components.
Related Video: