Speedaire air compressors are sold by a very large industrial distribution company in the United States known as Grainger.
Over the years the Grainger name has become synonymous with entry level up to high-quality industrial level tools, monitoring equipment, ancillary equipment, and air compressors.
The Speedaire brand of air compressor is Grainger's own house brand.
An image of one of their larger Speedaire air compressors follows.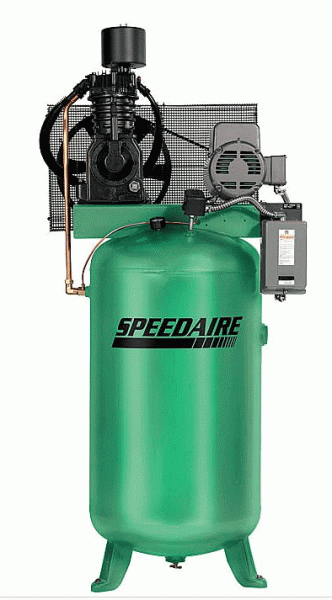 Grainger's range of Speedaire Air Compressors
Under the Speedaire air compressor brand, Grainger currently offers portable air compressors in the range of .33 CFM up to about 10 CFM.
Their stationary electric compressor line ranges up to about 100 CFM of air delivery at 90 PSI, with a range of tank and motor sizes.
Grainger also supplies under the Speedaire brand a full line of replacement compressor pumps and a variety of gasoline powered portable and stationary compressors.
Like many companies that sell air compressors any more, Grainger does not make their own air compressors. While not privy to the actual process, we expect that periodically Grainger reaches out to the compressor manufacturing community – and many of these firms are in the Orient (or have their compressor components manufactured there) – and gets them to bid on a job lot of XX-model of air compressor.
That means that your Speedaire Air Compressor model YYY that you purchased a few years ago, may not have the same manufacturer as the model YYY that's available from Grainger today, even though it's the same exact model number and overall appearance.
Speedaire Air Compressors Parts & Maintenance
Unlike many of the big box stores that sell various brands of air compressors, Grainger actually supports their brand.
You must understand however that they have been selling Speedaire brand compressors for decades, and no company, regardless of how big they are, stocks parts and service information for products sold 10 – 15 or even 20 years before.
Having said that, the first place to go for replacement parts and service information on Speedaire air compressors is Grainger themselves. We find their website, since it encompasses so many products, a bit hard to navigate, but do feel free to try.
http://www.grainger.com
As far as we are concerned though, if we need parts for a Speedaire air compressor, we will call them.
Need Help Finding Replacement Parts?
Call 1-800-Grainger
24 Hours a Day,
7 Days a Week.
Make sure you have all the information needed to help them help you. Your Speedaire compressor model number will be the minimum, and you probably want to have the serial number of your compressor handy when you call Grainger as well.
More help with Speedaire compressor information
If Grainger cannot help you with getting parts for your older Speedaire air compressor, post a request on this page using the comment form below. It would be very useful too if you would upload a photo of your compressor. This will help others help you when you are trying to find parts or service for your Speedaire air compressor.