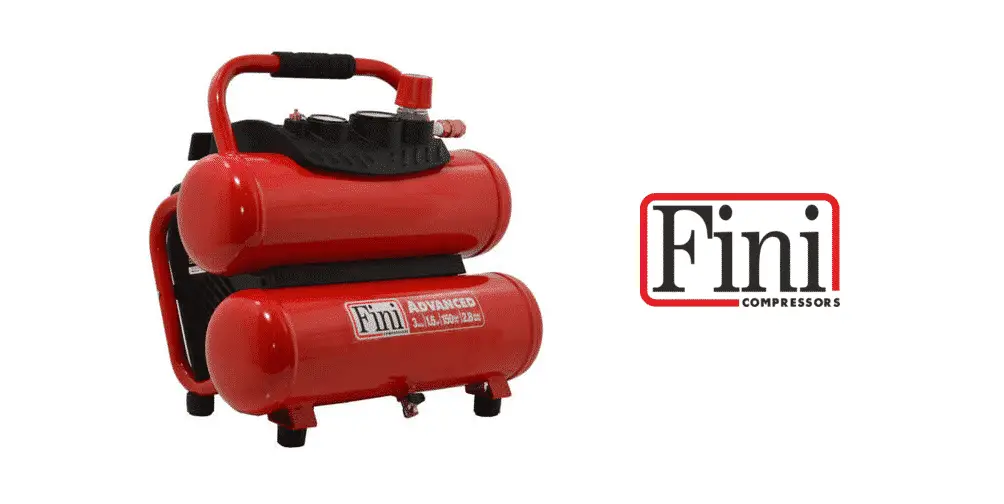 DISCLOSURE: This post may contain affiliate links, meaning when you click the links and make a purchase, I receive a commission. As an Amazon Associate I earn from qualifying purchases.
Fini is simply the best thing that you can get your hands on if portability is your main concern. These air compressors from Fini are small in size, yet they pack immense power in the motor and that allows you to get the job done pretty fast and more efficiently.
This 3 Gallon air compressor is one such convenient model that comes with 2 tanks for storage and a perfect weight distribution. A few notable features to consider about the air compressor are:
Fini 3 Gallon Air Compressor Review
Power
Power is the main concern for anyone who is looking to get an air compressor for them. This small sized-portable air compressor is packing a motor with 1.5 HP output on the electric 120-volts. Being an electric motor, it doesn't have any power losses at all, and it starts in cold weather as well pretty good. That means, you will neve r have to face any sort of delays or inconveniences during the work.
The air compressor gets to a maximum of 150 PSI that is quite awesome. In addition to that, the maximum output that one can get from the air compressor is 2.8 CFM@ 90 Psi. That output delivery allows you to use the air compressor for a wide range of finish and brad nail guns. In addition to that, you will also be able to use this air compressor for framing nail guns.
There are some other applications that the air compressor can be used for like running some small sized air tools, some airbrushes and lawn mowers. The best part is that not only the storage is good, but the 1.5 HP motor provides you the right powered coupled with it, so that you can get the job done without having any hiccups.
Design
The air compressor has two storage tanks, each with 1.5 Gallon capacity. The tanks are designed in a stack way so you can manage the air compressor pretty easily and keep it anywhere you like. Not only that, but the air compressor can also conveniently fit in those tight spaces that you might need to get the air compressor in.
The convenient design also helps great in portability as you it has a convenient handle that makes it easy for you to lift it up single handedly as well, and you can spare the other hand for all the tools that you might need to carry with it.
Operation
Operational part on this air compressor is pretty awesome and quite flawless. You get an electric motor that doesn't require any oil at all. That makes the whole thing seamless for you as you don't have to worry about anything that might go bad or any sort of wear and tear on the compressor either.
Moving forward, there are rubber pads on both the feet so that you get the perfect experience with no vibrations at all while the air compressor is running. It produces only 76 dBA while running, for a quieter and stress free work environment.