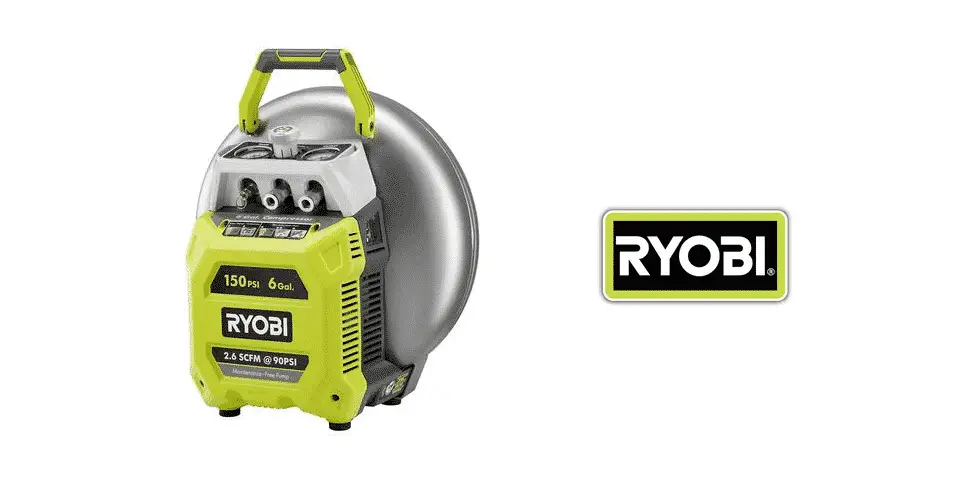 DISCLOSURE: This post may contain affiliate links, meaning when you click the links and make a purchase, I receive a commission. As an Amazon Associate I earn from qualifying purchases.
Ryobi is another trusted brand when it comes to smaller air compressors. They are making some of the best possible air compressor out there, so that you don't have to worry about a thing while on the go.
Whether you need an air compressor for inflating your car tires or something with more power to keep for jobs on the site. They got your needs covered. This 6 Gallon Air Compressor is one such thing that will help you with your needs, and a few of its features are:
Ryobi 6 Gallon Air Compressor Review
Portability
The first thing that you need to be concerned with while getting a smaller air compressor is its portability. The air compressor is pretty lightweight and designed right so you can carry it easily to the place where you need it to work.
It comes with a cord of 6' so you don't have to worry much about that part either. The handle is designed to be foldable and it makes the weight distribution easier for you. This way, you will be able to use the air compressor for all different sorts of applications that you might have in your mind or need to get done.
Design
You get to see a pretty non-conventional design on this air compressor that is something new but welcomed addition. The air compressor is designed to not only perfectly distribute the weight and to make portability easier but it has tons of performance perks attached as well.
You will get to enjoy a foldable handle so that you can make it work for fitting the air compressor in some really tight spaces as well. Not only that, but you will also be getting a lot more benefits on the design, as the gauges and valves are located perfectly that you can monitor everything on the air compressor with a single glance and keep the work going with your both hands as well.
The vertical pancake tank is something that you don't see more often on the air compressors. Yet, it gets you the improved center of gravity and more stability on the tank as well.
Applications
There is a wide range of applications for this air compressor, and you don't have to worry much about that. The motor is powerful enough to support an output of 150 PSI that can get most of the air tools that you might have going. In addition to that, the 6 Gallon storage tank ensures that there are no gaps or long waiting time for the tank to be filled between your work.
It has a convenient push-to-connect quick couplers that allow you to connect any ¼ inch automotive, industrial or ARO plugs. This way, you just have to plug the nozzle on the coupler and the air compressor will be ready to work with in no time at all.
You will be enjoying a truly seamless and perfect experience with commercial, industrial and domestic jobs with the air compressor. No matter what your needs might be, this air compressor can get them done.