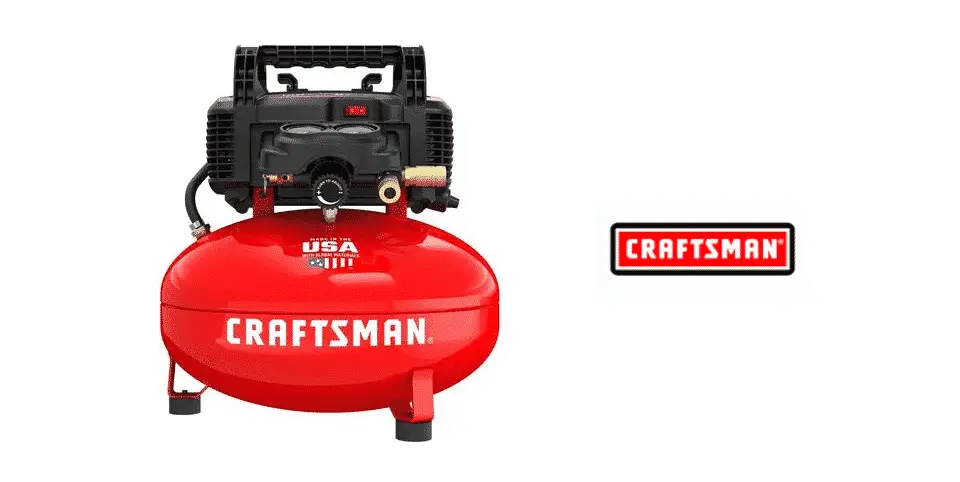 DISCLOSURE: This post may contain affiliate links, meaning when you click the links and make a purchase, I receive a commission. As an Amazon Associate I earn from qualifying purchases.
Pancake air compressors have gotten quite popular recently, as they are the best thing one can get for small-sized projects to be handled.
They are great for all sorts of domestic and some small-scale commercial applications as these air compressors are small, can be easily moved from one place to another and they can get the job done.
Craftsman has also jumped in and this 6 Gallon Air Compressor is a welcomed addition to their inventory that you can get your hands on and have a smooth experience.
Craftsman 6 Gallon Pancake Air Compressor Review
A few things to know about it are:
Power
If you are looking for an air compressor of such small size, it is pretty evident that the power might not be your main concern. Yet, this air compressor exceeds beyond the expectations that one might have set by looking at the small size.
It can give the output of 2.6 SCFM at 90 PSI and can easily go up to 150 PSI. With that power, you will not have to worry about much and the air compressor will allow you to get most of the tasks without getting any troubles.
The power is enough for inflating your own tires at the garage, working some power tools and even some light spray painting with the airbrushes. It has a quick recovery time, so there might be some delays if you exhaust the tank, but the air compressor is powerful enough to make up for it quickly and it will almost feel like they were never there.
However, if you choose to use the air compressor for some extensive tasks, it is not made for them and you will feel it to be underpowered for them. Yet, for the size of this air compressor and when compared with the other air compressors of this league, it turns out pretty great.
Operation
If you thought that power was the only pro on this air compressor, then it is not true. This one is a truly maintenance-free air compressor that allows you a simple experience with plug n play interface. You just have to plug it in the electric socket on your wall, connect the pipes on the hose and it will get the job done for you.
It is totally maintenance-free with no oil in the motor or any other mechanical part that might go out. The air compressor got rubber pads on all the feet to dampen the noise that might be caused due to the vibrations. This way, you can ensure having a perfect experience with your experience with least worries on your mind about maintaining the air compressor.
It might get tricky a bit on the nozzles part, as they are at an angle of 90 Degrees and one might get them confused, but the owner manual can get it sorted for you. You can also pick it up easily, as the air compressor is pretty lightweight and place it anywhere you feel like.