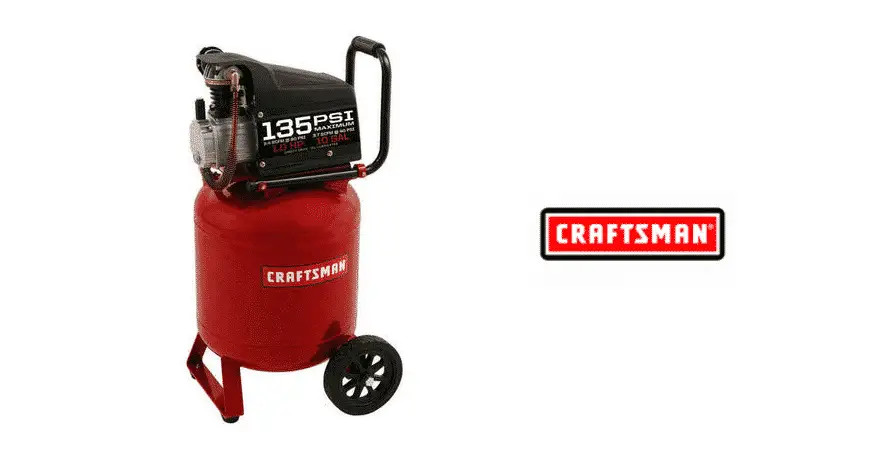 DISCLOSURE: This post may contain affiliate links, meaning when you click the links and make a purchase, I receive a commission. As an Amazon Associate I earn from qualifying purchases.
Craftsman is pretty famous in the US and even in some other countries worldwide for their highly efficient air compressors. They are manufacturing a wide range of air compressors that are to be used for a wide range of applications, and they come in all shapes, sizes, and power output on them.
Keeping all that in mind, you can always get an air compressor from Craftsman that will befit your needs exactly as you want them to.
Craftsman 10 Gallon Air Compressor Review
A few things to know about their 10 Gallon Air Compressor are:
Power
Power is a strong point for this air compressor and don't let the looks fool you. This air compressor might look small in size but it is packing 1.8 HP induction motor that is enough to get most of the mid-level air compression tasks done.
This can not only be used for running those longer air tools with more power, but you can think of a lot other creative ways to utilize that compression power and this air compressor is not going to disappoint you. The air compressor can also be used for some other accessories that you might have lying around, like some airbrushes and the power will be enough to get them all running.
Operation
That is the best part about this air compressor, as it has two gauges and all the valves on the top. That allows you to use and manage the air compressor without having any sort of inconveniences at all. The hoses are conveniently located on the top as well, and it is a convenient, plug n play sort of air compressor that is going to help you run it smoothly without getting through much troubles.
In addition to all that, with the air compressor, you get to have the least problems. The running sound for this air compressor is equal to none, so that is not something you will have to worry about.
The engine runs without any oils or lubricants so there are no issues like leakage, and you will not have to change any sorts of oils either. The air compressor is being advertised as a maintenance-free model and that is true up to a great extent. Except keeping it clean of dust and dirt, and changing the air filter at regular intervals, there is nothing else to worry about on this air compressor.
Portability
Portability is another great plus that you will be getting on this air compressor. It comes with an extended handle that is designed for a perfect weight distribution so that you can easily move the air compressor around.
There are also 2 wheels on the air compressor that allow you to simply lift it off one side and cart it as you want. The 10 Gallon air compressor comes with a 6' power cord as well. That will pretty much solve any problems about the portability and it is easy to move around in the garage and get your tasks done uninterrupted.