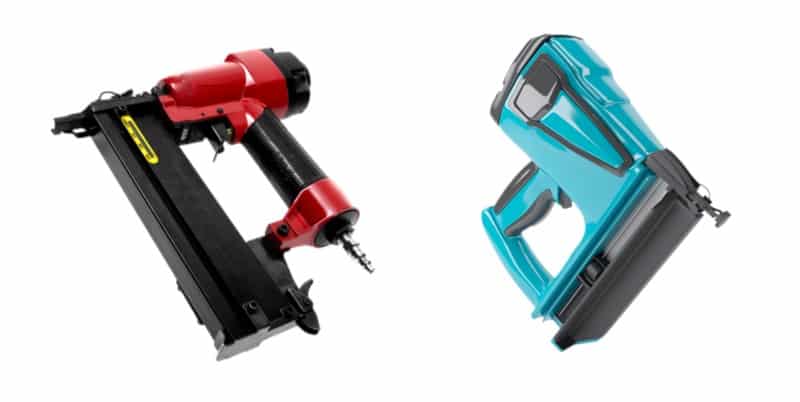 Pneumatic Nail Gun vs. Cordless Nail Gun
Investing in power tools requires a lot of research. At the end of the day, you want to buy tools that will benefit you in the long run. These power tools come in various models that you can choose in accordance with your own preferences. Specifically, a nail gun is a great tool to invest in. But which type of nail gun should you get? Which one is the best? A nail gun usually comes in two types: pneumatic and cordless.
Both types come with their own set of pros and cons. Their specifications are listed below.
Pneumatic Nail Gun
These nail guns were the first of its kind to be presented to the construction scene. This made a major difference in the work time of the builders and changed the construction industry. They are used for numerous types of projects by both homeowners and professionals. The use of this type of nail gun has increased over the years for different kinds of projects. In this type of nail gun, they are connected to an air compressor through an air hose, which provides the system with a certain amount of air pressure. This pressure pushes the nail when you pull the trigger.
Pros of Pneumatic Nail Gun
They are strongly dependable.
They are available in numerous varieties of models and types.
They are preferred by professionals on a regular basis.
Cons of Pneumatic Nail Gun
They are limited due to an air hose.
In order to get power they require an air tank/air compressor.
Cordless Nail Gun
This type of nail gun does not depend upon a power cord to be used. Hence, they are portable and can easily be transported from one job site to another. Plus, it allows you to move freely through your area of work. A cordless nail gun is powered by a battery that can be recharged to provide power to the gun.
This version of a nail gun is very popular among homeowners, and they are available in a wide variety of models, fitting everyone's specific nailing requirements. This is a powerful tool for anyone who constantly works with various types of materials, such as wood, in order to get the job done in a well-organized and efficient way.
Pros of Cordless Nail Gun
This type of nail gun is easily transportable.
It is quite simple to store and maintain it.
It is known to be a remarkably powerful tool.
Cons of Cordless Nail Gun
Its battery life is limited.
It might not be as easily available as compared to the other options.
Both the pneumatic and cordless versions of the nail guns have their own benefits. While the cordless nail gun is easy and handy, the pneumatic nail gun has been used for decades and still is a great choice. In the end, there are numerous pneumatic and cordless nail guns that can be compared to each other, but ultimately you should make the decision according to the job that you have to do, then to your own preferences. Either way, this tool is a must-have in your house to ease all of your construction needs.
Related Video: