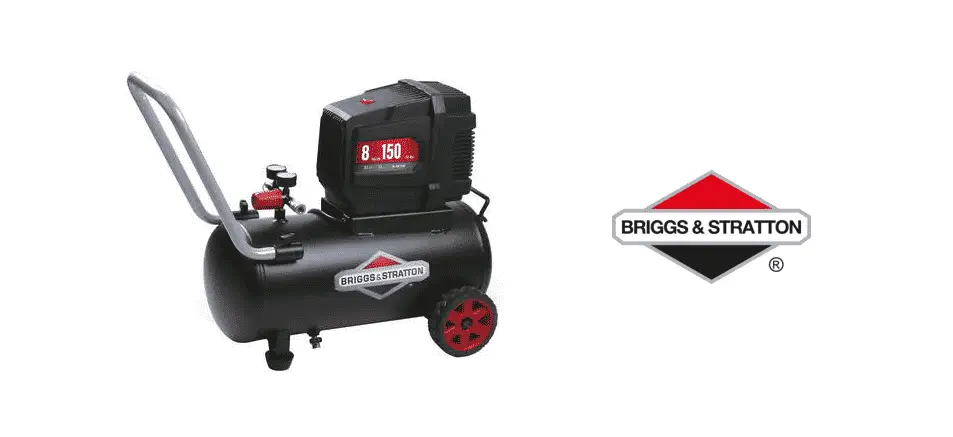 DISCLOSURE: This post may contain affiliate links, meaning when you click the links and make a purchase, I receive a commission. As an Amazon Associate I earn from qualifying purchases.
Briggs & Stratton is the right choice for you if you are looking for extended durability and extensive performance. Their air compressors are made for endurance and giving out the best possible performance.
These air compressors are used for really high-performance applications that are not possible otherwise. That is why, you will have a truly remarkable experience with Briggs & Stratton, no matter what applications you have intended to get the air compressor for. A few notable features for their 8 Gallon Air Compressor are:
Briggs & Stratton 8 Gallon Air Compressor Review
Power
Starting off with the power, the air compressor got the right power that one might need to get the job done. The air compressor got an electric induction motor that is totally oil-free and requires no extensive maintenance either. The motor produces 1.5 HP of power that is pretty much enough to get you the 150 Psi Max.
The air compressor can give the output of 4.8 CFM @ 40 PSI and 3.7 CFM @ 90 PSI. With such power, you can make use for all sort of air tools that you might have at your home, garage or any other construction site. The air compressor is capable enough to fill the 8-gallon tank in less than 5 minutes so you will not have to worry about those gaps and breaks between the work you are doing either.
Design
This 8 Gallon air compressor from Briggs & Stratton got the right design that is practical, aesthetically great and durable at the same time. This design makes the portability, performance and operation a whole lot smoother for you. It gets a hotdog-style tank that takes lesser space and you can keep the air compressor any place that you would like to store it. It can fit some narrow spaces as well, so you will not have to worry about the storage part.
In addition to that, the air compressor is mounted on the top of the tank with all the gauges and valves conveniently accessible on the front. That will make it a whole lot easier for you to use the air compressor with all sorts of air tools. Moving forward, you also get a quick coupler located at the top so you can connect any nozzles or pipes for your air tools just by plugging them on, and use this 8 Gallon air compressor for a wide range of applications.
Portability
Another perk that you will get to enjoy on this air compressor is portability. Despite that it looks pretty big, it got a long handle that makes it easier for you to lift it and move it around. With the improved center of gravity and two rugged wheels for transportation, you can easily move the air compressor around places.
Even if you are on a construction site with rough terrain, you will be able to move the air compressor without having to worry about the roughness and uneven ground. This way, you will never have to face any problems on the mobility part for certain.