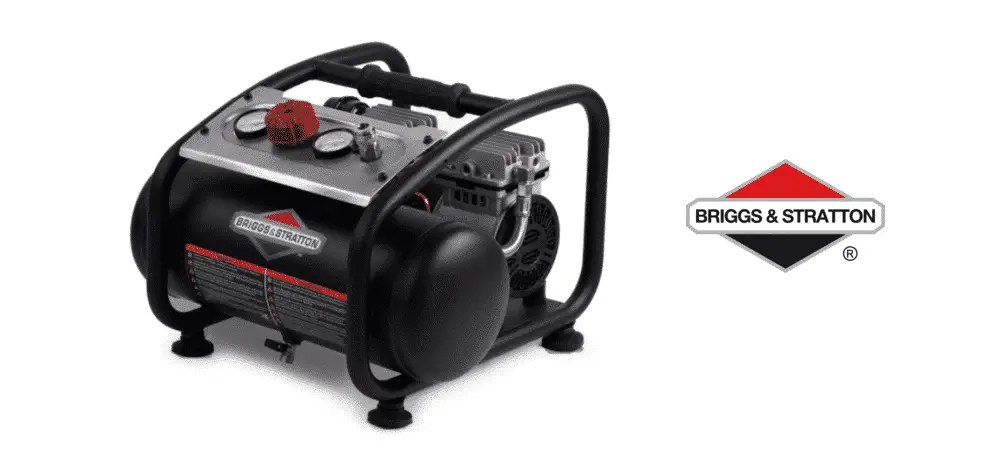 DISCLOSURE: This post may contain affiliate links, meaning when you click the links and make a purchase, I receive a commission. As an Amazon Associate I earn from qualifying purchases.
Briggs & Stratton is one of those most durable brands that are known for their sturdiness and reliability. These air compressors that you get from Briggs & Stratton are simply fabulous when it comes to performing under stress and getting your work done without much troubles.
There are multiple shapes and sizes of these air compressors from Briggs & Stratton, and if you need an air compressor with 3 Gallon Capacity, you should need to check this one for sure.
Briggs & Stratton 3 Gallon Air Compressor Review
Design
The first thing that you would notice on this air compressor is its non-conventional design. While most of the air compressors are about the tank only, this air compressor feels like a mini generator.
It has a strong roll cage sort of structure outside that doesn't only make the portability a lot easier, but it also improves the stability and noise cancellation on the air compressor. All the gauges are located conveniently so you just have to take a good glance on the top to know the pressure, output airflow and everything else that you might need to know.
Portability
The air compressor is made from certain lightweight materials that are not only lightweight, but extremely durable as well. This way, you will not have to bear any excessive load either while lifting it up. The best part is that the frame around the air compressor is not about stability only, but it helps you greatly with the portability as well. You can easily use the frame to lift up the air compressor and move it around from one pace to other.
To supplement that, there are four feet of the frame that ensure a perfect balance over all sorts of surfaces and don't let you worry about any sorts of vibrations or excessive noise coming out from the air compressor.
Operations
The operations part on this air compressor is as easy as 1 2 3. It got a quick coupler mounted on the top so you just have to plug in any appliance, air tool or any nozzle that you want on the top, and you are good to go.
The air compressor uses a Quiet Power Technology that makes it 80x quieter than standard Briggs & Stratton air compressor. It is so quiet that you wouldn't even feel that the air compressor is running if you judge that on the basis of sound.
In addition to that, the air compressor is almost maintenance free, so you just have to take care of the basic stuff like getting the air compressor right voltages, making sure that it is not under direct sunlight and keeping it away from the humidity.
You will also need to replace the air filter at regular intervals and that will keep the air compressor going for as long as you would want to. The air compressor needs to be cleaned off from any dirt and dust particles and mind the leakages as well on the valves. Except that, you are going to get a seamless experience with this one.