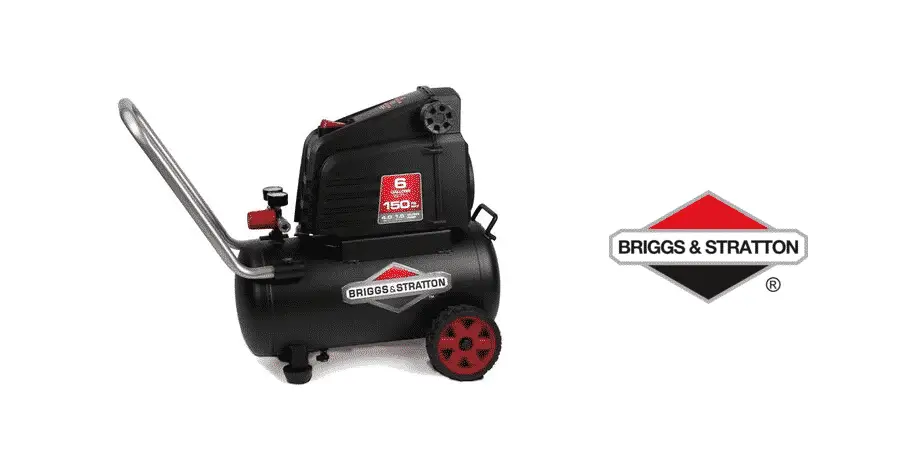 DISCLOSURE: This post may contain affiliate links, meaning when you click the links and make a purchase, I receive a commission. As an Amazon Associate I earn from qualifying purchases.
Briggs & Stratton makes some of the best possible air compressors out there in market. These air compressors are power-oriented and made for enhanced durability. You are going to love having the air compressors around, as they are going to last longer than any other air compressors that are available out there in the market.
They are making a wide range of air compressors with different powers and size capacities that will suit your needs and applications that you might need the air compressor for. A few notable features for this 6 Gallon Air Compressor are:
Briggs & Stratton 6 Gallon Air Compressor Review
Power
The 6 Gallon air compressor got the right power on it that is needed to get the power tools running and a lot of other applications. The air compressor comes with an induction electric motor that gets 1.5 HP output and that is more than enough for getting a 6 Gallon air compressor running.
It gives the output of 150 PSI at max so you will not have to worry about any length of power tools that you need to work on some equipment. You can also use the air compressor for any sort of commercial nailing application and will not feel it to be underpowered.
The 1.5 HP motor can fill up the 6 Gallon tank within a couple of minutes so that there are optimally no gaps in-between your work. In addition to all that, you can run any sorts of air tools, airbrushes, use it for inflating tires and balls and with a lot of other machinery that needs an air compressor to power them like snow and leaf blowers.
Maintenance
There is not much to worry about on the maintenance part of this air compressor. To start with that, it gets an oil-free motor that doesn't only save you from the hassle of checking the oil levels and changing your oil, but it also means there are not many mechanical parts on the motor that might go bad due to wear and tear.
The air compressor will keep on running as long as there are no electrical failures on it, and they are certainly easier to fix than those issues you get on the mechanical components.
You just have to ensure to change the air filter at certain intervals and keep the air compressor away from humidity or direct exposure to the sunlight. Storing it right, and using it properly is all that you will need to make sure your air compressor keeps on working.
Portability
The air compressor got Briggs & Stratton's signature hotdog style tank that is pretty easy to move around. Rugged wheels help you with the mobility as well and you can lift the handle and take the air compressor to the toughest job sites without having to worry about a thing.
It comes with a 6' power cord as well, so you can easily use it for nailing, finishing or any other power tool application that is needed on the construction site, or to run those lug nuts inside a garage.