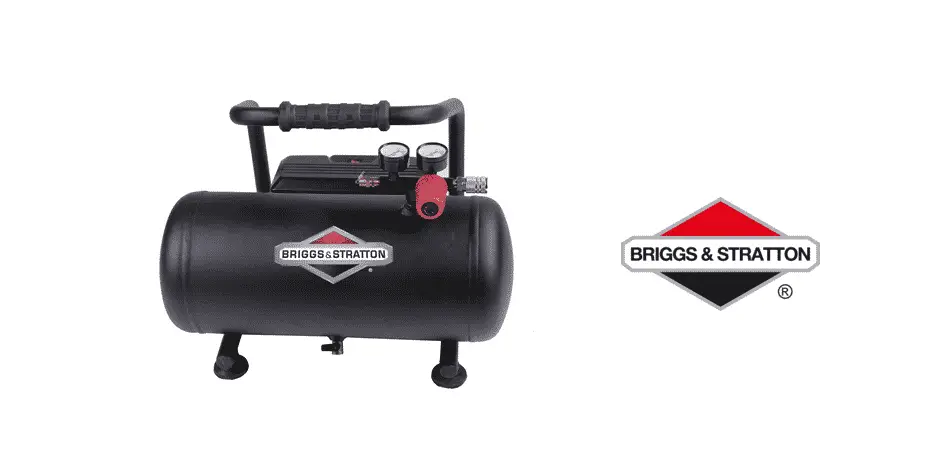 DISCLOSURE: This post may contain affiliate links, meaning when you click the links and make a purchase, I receive a commission. As an Amazon Associate I earn from qualifying purchases.
Briggs & Stratton is the most rigid-looking brand of air compressors and that is not only about the looks. Their air compressors are some of the toughest ones out there. They are manufacturing these air compressors using cutting-edge manufacturing facilities and employing some of the best technologies to make the whole experience a bliss for the users.
That is why, there is not much that you will have to worry about while using these air compressors. If you are looking for a small 4Gallon air compressor, then here is a cool option for you.
Briggs & Stratton 4 Gallon Air Compressor Review
Design
Briggs & Stratton is coming up with some of the most non-conventional and better performing designs that one might be getting from these air compressors. These designs don't only look cool and stronger, but they also have great performance perks on them. The air compressor looks like a duffle bag and it comes with a foldable handle on it.
Unlike other air compressors, the compressor and storage tank are not apart and they feel like they are made as a single component. This will not only save storage space for you, and increase stability, but also avoid most of the leakages that are caused due to connecting pipes on the storage tank or rubber seals leakages.
Operation
Coming to the operational part, this air compressor beats most of the 4 Gallon air compressors out there in the market. The air compressor has the pressure valve, and both gauges located right on the front.
They are designed at an inclined angle so you can easily access them or read the information without moving much. No matter if you are standing, sitting or you are under a vehicle getting some work done. You just need to look at the air compressor and everything you need to know is right there to access it.
In addition to that, this 4 Gallon Air Compressor got their signature Quiet Power Technology that is fairly new and not many air compressors can claim to be this noise-free. This air compressor produces 80% lesser sound than a standard air compressor, and is considerably a whole lot more noiseless than the other air compressors.
That makes it a perfect thing to have for artists who are looking to get some airbrushing done and don't want to face those rattling sounds and vibrations that you get on these air compressors. This air compressor also has a quick coupler on the top to provide you with a plug-n-play experience with all sorts of airbrushes and air tools.
Portability and storage
The air compressor is not very big, and you can store it under your desk, or the tool shelf if you need to. There is a foldable handle on the air compressor that will be conveniently locked to take the air compressor to anyplace that you need to and when you don't need it, it can be folded and covered for you so that you can store it or keep it in those tight places as well.