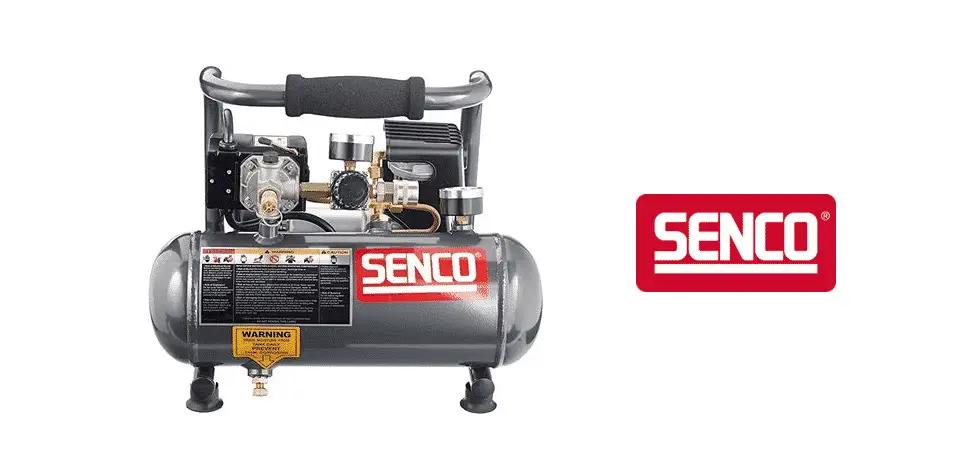 DISCLOSURE: This post may contain affiliate links, meaning when you click the links and make a purchase, I receive a commission. As an Amazon Associate I earn from qualifying purchases.
Senco is one of the brands for air compressors as they are all about the smaller air compressors that are mostly used for small-scale commercial and domestic applications. Senco is trusted for its absolute performance and the right durability that allows you to enjoy a pretty seamless experience with any sort of air compressor.
Not only that, but they are pretty convenient to move around and have the right storage capacity as well. A few things that you will like to know about the Senco PC1010 model are:
Senco PC1010 Air Compressor Review
Power
This small-sized air compressor is packing 1 HP motor that is the best thing one can have. This way, you get to enjoy 20-44 drives a minute for all the compatible air tools that you might have planned to use with the air compressor.
Not only that, but there is a lot more to it. The air compressor is rightly designed with a storage tank of 1 Gallon to help you with all the applications that you might think of. 1 HP motor is enough to fill up the tank within a couple of minutes so that you will not have to worry about any sort of gap that you have to face otherwise between your work.
Storage
The air compressor got a 1 Gallon tank, that might look smaller to you, but it does the job pretty fine. This air compressor is designed for hobbyists or DIY people who want to have something powerful enough in their garage to work some air tools or get the paint job done on their things. The 1 Gallon air compressor doesn't sound like much but coupled with the 1 HP motor, it is an amazing thing to get the job done for you without having any sorts of hassles or problems at all.
Design
The design is quite good and it looks like a mini version of those commercial air compressors that you might get to see out there. With that being said, it got rubber pads on the feet to provide a stable, and vibration-free experience for the air compressor.
It can easily be lifted up, thanks to the handle on top. All the gauges are designed to be accessible with a single glance so you don't have to stress much while you are working on something.
In addition to that, all the hoses and valves are also conveniently located for a seamless working experience. These hoses allow you to have a plug-n-play operation on the air compressor and you don't have to make much effort to attach or detach your air tools.
With that design and a super-efficient motor, the air compressor gets an almost noise-free operation. It runs merely at 68 dBA that is one of the quietest rating that you can see on some air compressor. That is one of the best perks about this air compressor second by the 1 HP motor on such small air compressor to work with all sorts of air tools and airbrushes that you might need.