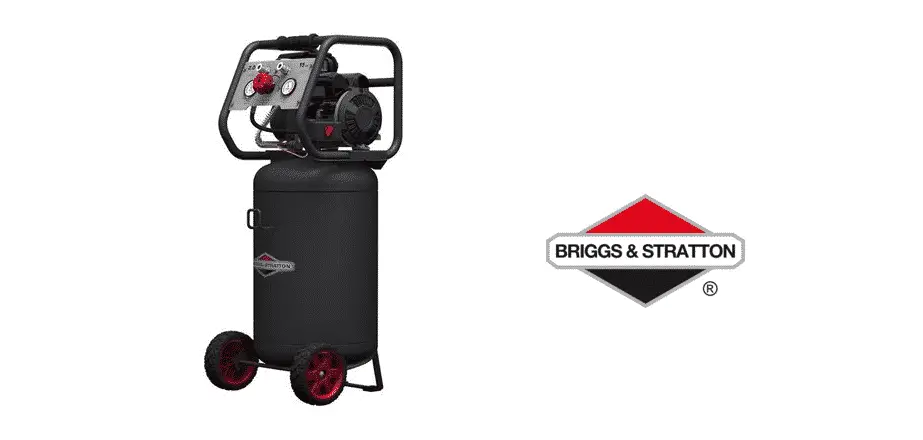 DISCLOSURE: This post may contain affiliate links, meaning when you click the links and make a purchase, I receive a commission. As an Amazon Associate I earn from qualifying purchases.
If you are tired of your conventional air compressor and want to get your hands-on something better that will help you enjoy a more seamless experience, then you should definitely be considering Briggs & Stratton.
Their air compressors are manufactured using cutting-edge technologies and a state-of-the-art manufacturing facilities to ensure optimal performance, the best efficiency, and durability.
That is why Briggs & Stratton is among some of the most popular brands for air compressors that are being used commercially. A few notable features for this 15 Gallon air compressor would be:
Briggs And Stratton 15 Gallon Air Compressor Review
Power
If you are looking to get something with 15 Gallon capacity on it, you are definitely going to be concerned about the power as well. This air compressor got the best edge of power and it can go up to 200 PSI max. That is more than any other compressor that you can get your hands on in the market in this league.
Not only that, but the air compressor can also give an output of 5.0 SCFM @ 90 PSI that is more than any other air compressor of this size. The best part is that all this power is produced on an electric induction motor that is totally oil-free.
This means, no power losses due to lesser mechanical components and you can use the air compressor for all different sorts of applications without having to worry about a thing.
This power on the air compressor is enough to run a wide range of air tools for nailing, finishing, and surface preparation. You can also use the air compressor for the garages to run the impact wrenches and more without facing any sorts of troubles at all.
Not only that, but such power allows you to have the tank filled within a few minutes and you will never have to face gaps between your workload.
Maintenance and Durability
Being an induction motor that runs oil-free, there is not much that you have to worry about when it comes to maintenance. You will be having a maintenance-free experience with the air compressor without having to worry about those oil changes, wear and tear on the mechanical components, and all that sort of stuff.
The air compressor is made of sturdy materials that are built to last and there are scarcely any issues with the durability on this one. In addition to all that, it is painted in matte black to not only signify power and strength but to also take a few scratches and still look the same.
Design
This 15 Gallon air compressor comes with a vertical design with the compressor mounted on the top of the tank. The compressor got a protective case around it so you don't have to worry about falls or portability either.
In addition to all that, the design allows you to enjoy a seamless storage experience as it will not take much space either and you can store the air compressor in any corner that you want to.