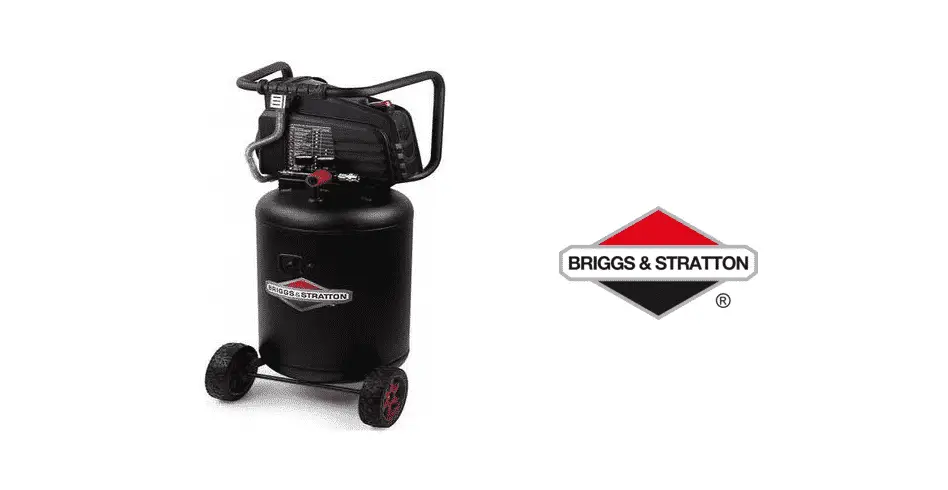 DISCLOSURE: This post may contain affiliate links, meaning when you click the links and make a purchase, I receive a commission. As an Amazon Associate I earn from qualifying purchases.
With the abundance of the air compressor manufacturing brands out there, one might get confused to choose the right one for their needs. Briggs & Stratton is one such brand, that is the best thing one can get for power, stability and durability.
Some might not like their approach to have smaller storage tanks, but the motors are powerful enough to make up for that, and this allows you an edge for better storage and portability on these air compressors.
If you want to have an air compressor for some heavy-duty applications, you must be considering this 10 Gallon model from Briggs & Stratton.
Briggs & Stratton 10 Gallon Air Compressor Review
Power
Coming right off to power, and this air compressor has no deficiency of it. It might look like a smaller air compressor with a tiny motor, but it gets a surprisingly powerful output that can reach up to 1.8 HP and that is pretty much to get the tank filled in a minute or two at maximum.
The best part about this motor is that it is made for extensive power output and can get to 150 Psi maximum output. This way, you will not have to feel those power losses or gaps in your work ever if you choose to go with this model of the air compressor.
Applications
No application is powerful enough for the air compressor. For domestic small-scale projects for the DIY guys, to using it for commercial and industrial applications. Whatever you might need to throw its way. The air compressor got the right power to get it done for you.
The air compressor can support a wide range of air tools for nailing, finishing, bolting and more. Moving forward, you can use the air compressor with a ton of other appliances such as the lawn mowers, leaf blowers and air brushes for painting vehicles or anything like that. Basically, the power is there and you just have to decide what to do with it.
Portability and Storage
If you are thinking that the air compressor might be too big in the size, that is another surprise on the air compressor. With the vertical design of the tank and compressor mounted on the top, this air compressor is made to fit in the tight spaces and get the job done for you.
It has rugged wheels to take it anywhere you want without taking any sorts of risks at all. Not only that, but there is also a convenient handle that allows you to move the air compressor freely to all the different places without having to worry about a thing.
The air compressor got a vertical design, and is pretty slim and compact. That allows you to enjoy a seamless experience and you can easily store it in really tight spaces. Not only that, but you also fit it any corners and keep the work going as it has a 6' long power cord that can also be extended. The air compressor is simply the best in this size and power range to move around.