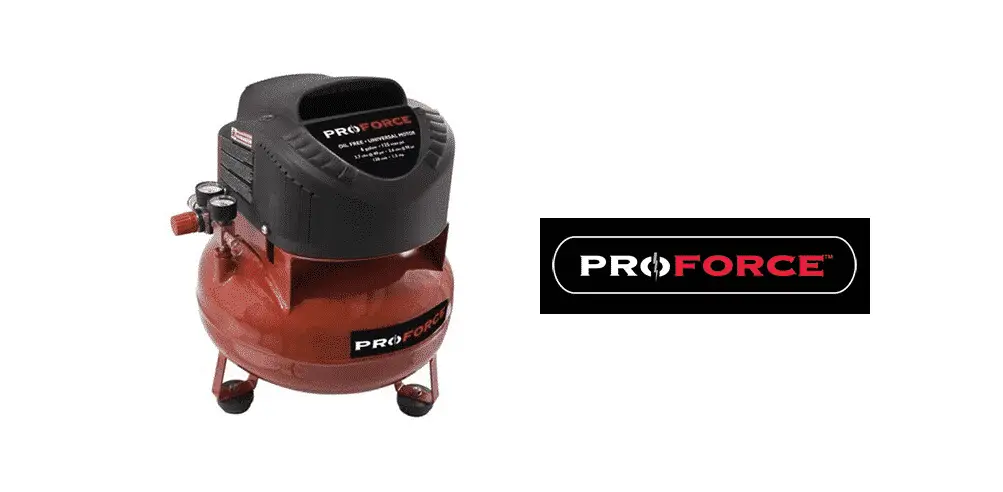 DISCLOSURE: This post may contain affiliate links, meaning when you click the links and make a purchase, I receive a commission. As an Amazon Associate I earn from qualifying purchases.
ProForce is one of those major air compressor manufacturing brands that are trusted not in the US only but have managed to gain popularity all around the world.
These air compressors are highly efficient, portable, and lightweight as well. There are tons of models with different shapes, sizes, and storage capacities that you can get from ProForce.
Yet, this 6 Gallon air compressor is one of the best things that you can keep in your garage to get the basic stuff done. A few things that you need to know about this pancake air compressor are:
ProForce 6 Gallon Air Compressor Review
Power
The air compressor got no deficiency of power when it comes to that. It basically has the right power on it that can run all sorts of small-scale applications that you might have in the mind to use with this air compressor.
It has a motor capable of producing an output of 1 HP that is pretty much enough to fill up the tank within a few minutes. Not only that, but the air compressor also got a maximum pressure of 150 PSI that is surprisingly pretty high for an air compressor of this size.
In addition to all that, you will be getting an output of 2.6 CFM @ 90 PSI that is enough to inflate the tires, work with some of those smaller air tools, and whatnot.
The air compressor is especially popular with the artists and car painters who like to have the right power for their airbrushes for an even spread of the paint throughout the surface and not have any sorts of hiccups with their work.
Design and Portability
For such small-scale air compressors, pancake tanks are getting quite popular and not without due reasons. Similarly, this air compressor got a pancake tank that has a storage capacity of 6 gallons with the air compressor motor mounted on the top.
It makes it easier for you to work with the air compressor as all the gauges and valves are located conveniently on the eye levels that you can reach out to with a single glance while working and not have to go to much lengths for it.
In addition to that, the convenient design makes portability a blissful experience for you. You can simply lift it up and store it under your shelf, or in any tools cabinet that you might have in your garage.
There are three legs beneath the tank to make it more stable and reducing the vibrations that will also minimize the noise being produced on this tank.
Applications
This is something that you must have if you like to do some DIY stuff. It works out great with a wide range of nail guns for repairing the fences and similar stuff like that.
You can also make the air compressor work for inflating the tires and filling some of those lawn toys that you might be using around your place.
The air compressor can also be used for spray guns that meet the SCFM requirements for some airbrushing and painting experience.