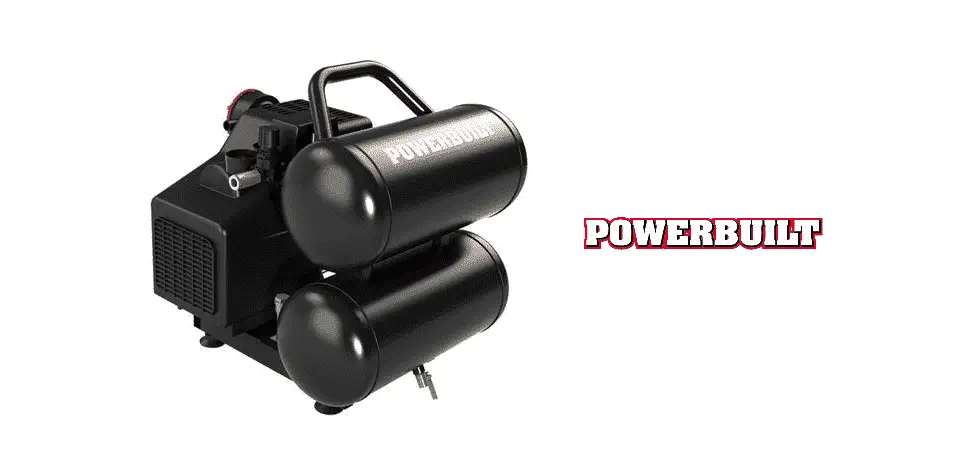 DISCLOSURE: This post may contain affiliate links, meaning when you click the links and make a purchase, I receive a commission. As an Amazon Associate I earn from qualifying purchases.
Powerbuilt is one of the brands that is making not only some of the most powerful and durable air compressors, but they have kept the affordability part in mind as well.
If you are looking for something functional, without any bells and whistles attached that can get the job done, then you should definitely be considering the Powerbuilt air compressors.
This 5 Gallon, twin tank air compressor is one such air compressor from them that is highly powerful and a few things that you must know about it are:
Powerbuilt 5 Gallon Air Compressor Review
Power
While the storage capacity is quite small on the air compressor, the same cannot be said for the motor on it. It has an electric motor that is oil lubricated and is capable of producing an output of 2 HP that is surprisingly high for an air compressor with such a storage tank and small size.
The maximum air output can go to 125 PSI max that is pretty low considering the output but being a mechanical air compressor, it is not quite bad either. The air compressor can also provide the output of 5.1 CFM @ 40 Psi and 4.1 CFM @ 90 PSI that would be enough to get all sorts of jobs done for you.
Moving forward, this air compressor is all about power. That is why, it will only take a couple of minutes to fill both of the tanks for you, accumulating to a total of 5 Gallon.
This way, you will not have to come across any sort of gaps or waiting breaks while you are working and you can keep going on with all sorts of applications that you intend to use this air compressor for.
Motor
Keeping the affordability part in mind, the motor is quite old-school and it can be sort of a deal-breaker for someone who is looking for cutting-edge technologies. The motor is basically a Hot Rolling Steel that is oil-lubricated and you need to be careful about getting the oils changed regularly.
The motor is not as efficient as these new motors that are coming out either, and you will have to miss out on the efficiency part as well. There are some power losses also reported on this motor.
Yet, besides all that, it got some serious bras, and with that 2 HP power on it, you will be able to get most of the commercial applications completed without much of a hassle.
Portability
Besides having the twin tank and a 2 HP motor, the air compressor only weighs 27.9 Kgs. That means you can lift it up easily with the handle and move it conveniently to the places of work.
There is a convenient handle on the top attached to the body of the air compressor and both tanks, so you don't have to worry about how you can lift it up. The air compressor is pretty compact in size and it can fit in really tight spaces too while working and storage as well.