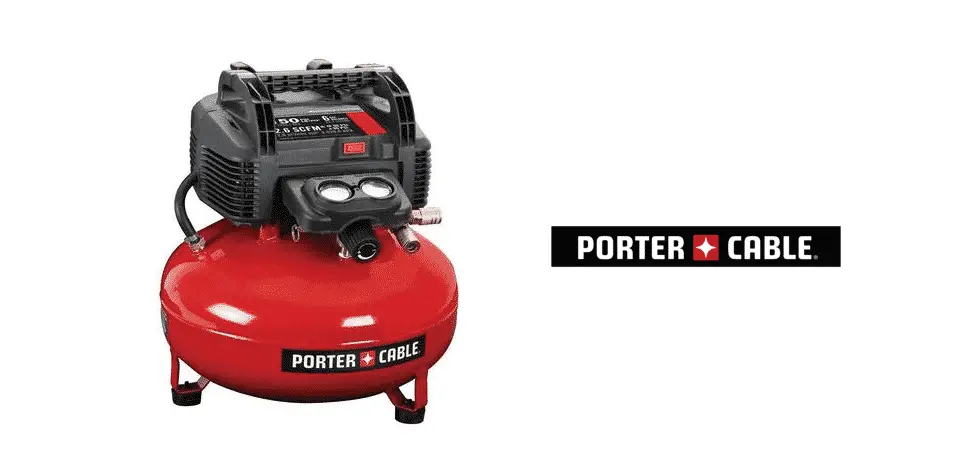 DISCLOSURE: This post may contain affiliate links, meaning when you click the links and make a purchase, I receive a commission. As an Amazon Associate I earn from qualifying purchases.
Porter cable is another air compressor manufacturing brand that focuses on durability, power and efficiency. Their air compressors are highly reliable and are being used for a wide range of applications all across the world.
The best thing is that, they have an abundance of air compressor models so you don't have to worry about a thing there. Whatever your needs might be, there is always a model in inventory of Porter Cable that will be the perfect match for your needs.
Porter Cable 6 Gallon Air Compressor Review
Some notable features for this 6 Gallon air compressor would be:
Power
Power is one of the strong factors for Porter and they are pretty good at it. Their air compressors don't only look good with the numbers, but they can easily overrun other brands when it comes to the power delivery. Similarly, this 6 Gallon Air compressor might look small but it has all the right power on it to help you get most of your tasks done that you can be needing an air compressor for.
From running some smaller air tools, to inflating the tires in your garage, inflating some balls, or even spray painting as hobbyist. The air compressor will help you cover all of them without having any sorts of issues.
The air delivery gets to 150 PSI max and it runs at 2.6 SCFM at 90 PSI. Yet, the best part is that it takes a quick interval to recharge the storage tank for you and you will not have to worry about delays with your work.
Operation
That is another great thing about this air compressor and it is simply plug and play sort of air compressor. The motor doesn't need any oil for the lubrication and is mostly electric. That means, lesser maintenance problems, or it wouldn't be wrong to call this one even a maintenance free air compressor. Since most of the parts on this air compressor are electrical, the wear and tear is equal to none.
In addition to all that, there is no noise on the air compressor either and it will feel like running without any sorts of sounds at all. This allows you a convenient and better work experience, and all you have to do is plug the air compressor in your wall socket and just get the work done that you need to have taken care of.
Portability
These pancake air compressors have been a great success as the weigh distribution and stability of these air compressors is amazing and this one gets you the best edge of this design. You can easily lift and place the air compressor at any flat surface to get it going.
The lightweight and durable materials on the storage tank and air compressor make it easy for you to move around the air compressor without having any sorts of problems or issues at all. The plastic used on the air compressor is pretty rigid, and that allows you to have a worriless experience.