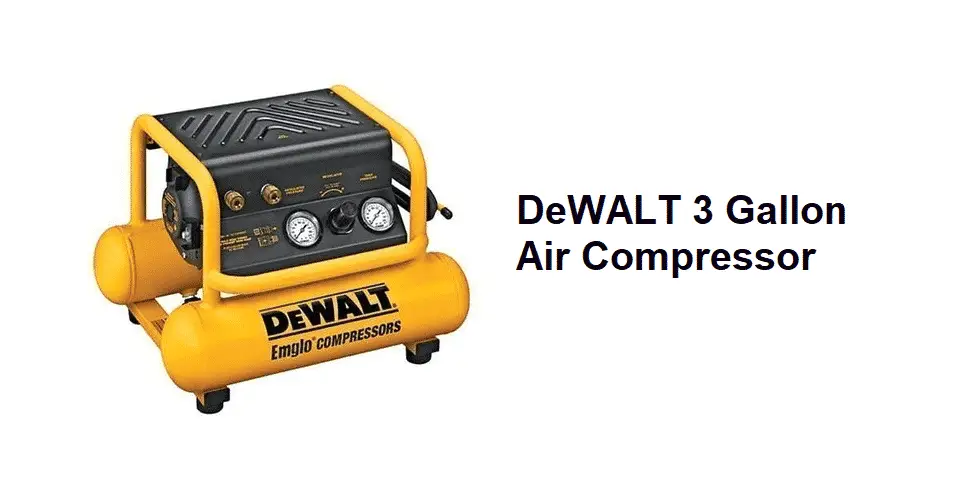 DISCLOSURE: This post may contain affiliate links, meaning when you click the links and make a purchase, I receive a commission. As an Amazon Associate I earn from qualifying purchases.
With such abundance of air compressors in the market, one might get confused as which one would be the right choice for them to have.
DeWALT is one such brand that is manufacturing some great air compressors that might be fit for all your small needs.
DeWALT 3 Gallon Air Compressor is the right electric Pancake air compressor that you might be looking into for some of your needs.
DeWALT 3 Gallon Air Compressor Review
A few things that you would need to know about DeWALT 3 Gallon Air Compressors are:
Applications
First things first, and you will have to keep a track of the applications that you might be able to get with the DeWALT 3 Gallon Air Compressor. It might not be much, but the right storage and its build quality allows you to have the perfect edge of using some smaller power tools.
This way, you will be able to get the work done with quick recovery and lesser breaks during your work. It can also be the best air compressor to be used on some of those air inflating needs, leaf blowers and other similar applications.
Performance
The performance is simply great and it would not be wrong to say that this air compressor exceeds the expectations that one might have by looking at the size of this air compressor. The air compressor got a 25-ft coil hose with 1.8 SCFM of compression delivered at 90 PSI.
This way, you will never feel the air compressor to be underpowered. One just has to keep in mind that this is a 3 Gallon Air Compressor that you will have to work with.
You will need to keep that in perspective always that the accessory or tool that you are going to use with the air compressor needs to be chosen accordingly.
A bigger one might not be able to make it work properly and it might not work at all, at times.
Except that, there is not much that you will have to worry about and you can make the air compressor work like a charm most of the times.
Operation
The DeWALT 3 Gallon air compressor allows you to have the best edge of an air compressor with the right operations. It is pretty soundless and there is not any excessive noise or sounds that you might have to care for.
Apart from normal hissing that is quite common with the air compressors, there are no rattling sounds or vibrations that might hinder your experience with these air compressors. You can have advantage of a virtually trouble-free air compressor with this one.
Costs
There are not much running costs that you will have to worry about. The air compressor might be a bit more expensive when compared with the other air compressors of the same league and size, but that is something that you can get covered pretty easily. The running and maintenance costs make up for it, and you will be able to get the best bang for your bucks.