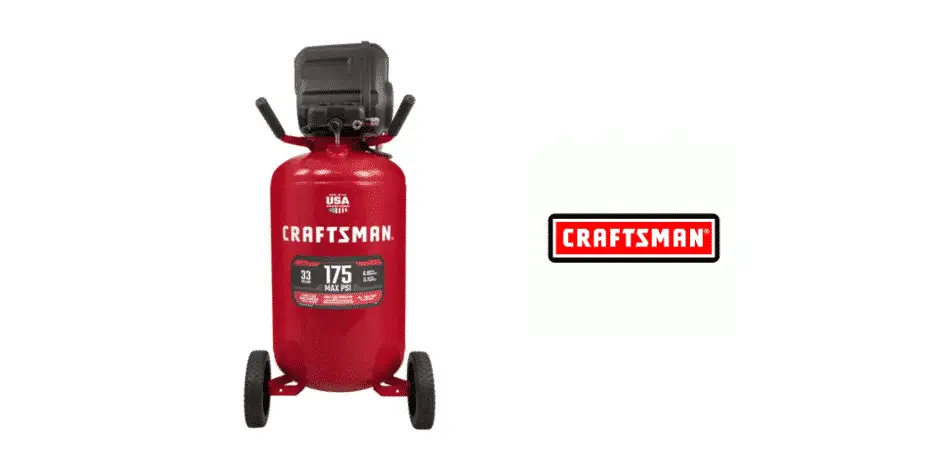 DISCLOSURE: This post may contain affiliate links, meaning when you click the links and make a purchase, I receive a commission. As an Amazon Associate I earn from qualifying purchases.
Craftsman is making some highly durable air compressors, and their variety is beyond anything that you can get out there. These different combinations allow you to choose wisely, according to the needs that you might have in your mind for these air compressors.
This allows you to have the best advantages from your air compressor, and you can get the right combination of power and storage that you might need. This 33 Gallon Air Compressor is one such machine that you are going to love, and a few things that you ought to know are:
Craftsman 33 Gallon Air Compressor Review
Power
This is a commercial air compressor designed for all those mid-level garages, handymen and to tackle other stuff like that. That is why it has some juice on it and the motor runs at 1.7 HP optimally. That is pretty much enough to get the job done for you, and the 33 Gallon of storage tank makes up for the lost power and you can get the work done as well, without facing any sorts of breaks at all.
The air compressor gives an output of maximum 175 PSI that is surprisingly high, keeping the size of this air compressor in perspective, but that allows you to run some of those extensive air tools as well, which was not possible otherwise on the air compressor with these dimensions.
Operations
To make things more efficient and durable, the motor runs without any lubricant or oil, so you will never have to worry about mechanical parts failure or changing the oil. However, that might have increased the noise on this air compressor a bit and it runs at 80.3 dBA. Now, that is not much, but it can get pretty tough to bear such sound in enclosed spaces for longer periods. That is why, it might not be a good fit for you if you are looking for something quiet and noiseless.
Except for the sound part, the handling, working and operations on this air compressor are pretty easy and anyone with basic knowledge of the tools and air compressors can make it work without causing any trouble. The motor starts electrically with a push of a button and the pressure valve and other gauges are conveniently located at the front so you can monitor all those stats as well while working on the air compressor.
Applications
This one is a full-fledged commercial air compressor that is made for helping you with all sorts of applications that you might have in mind. From Framing nails to finishing nails and roofing, you can use it for all sorts of purposes. In addition to all that, the air compressor can also be used for drilling, cutting, grinding and other pressure-sensitive applications. You just have to ensure that you are getting the right accessories to go with it, and that will help you out optimally to get it going. The air compressor is also pretty good to be used with the airbrushes for painting.