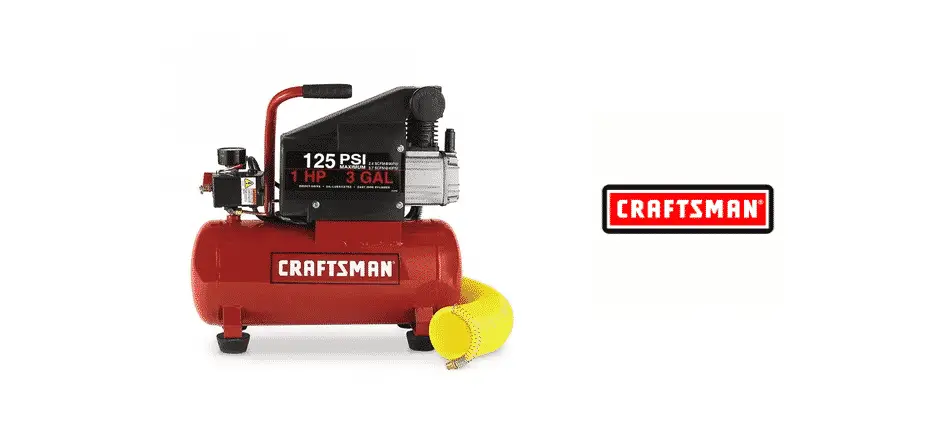 DISCLOSURE: This post may contain affiliate links, meaning when you click the links and make a purchase, I receive a commission. As an Amazon Associate I earn from qualifying purchases.
Craftsman has an air compressor for you, no matter what size or power you might be looking for. These different combinations vary, based on the application that you might have.
This 3 Gallon Air compressor is one of the high-performance variants that might not be optimal for those tasks that need storage, but it got a pretty powerful motor on it that pretty much makes up for the storage part.
Craftsman 3 Gallon Air Compressor Review
Power
The air compressor comes with a 1.5 HP motor that is scarce to find in the air compressor of such small storage capacity. However, the motor is perfectly fine to handle all the heavy-duty tasks as the air compressor is specifically designed keeping higher output in perspective.
The air compressor is just the thing that you are going to need, if you feel like you don't have much need for extensive storage capacity on the air compressor, but you need something powerful enough to cater all the needs that you might have regarding a project in your mind.
Operation
The operation on this air compressor is great, as it got rubber seals on the bottom to avoid any excessive vibrations. Of course, the motor running at 1.5 HP makes some sound, but that is not going to bother you either as it is not that much. The air compressor is small in size, and that allows you to use it for those tight spaces and a lot of other similar applications as well.
The motor doesn't need oil to lubricate so, that allows you peace of mind as you don't have to deal with the problems that come with an oil-lubricated motor. You just have to be a bit careful about the air filter and clean it regularly. If you feel it might be clogged more than the cleaning can fix, you will have to replace it and that is all the maintenance this air compressor needs.
Portability
It comes with two convenient handles on the sides and they make it easy to carry around. You just have to lift the air compressor and move it conveniently from one place to another. The air compressor is designed for DIY stuff, and not for commercial purposes. Hence, the smaller size and larger motor are a perfect combination for the air compressor and you can keep it on your garage or your studio, whatever you need the air compressor for.
Utility
Coming to the utility part, this air compressor is designed to get the work done fast, and not for doing the commercial work. It is perfect to have for inflating your tires in the garage, some airbrushing as a hobbyist and it can get the air tools running for you as well, but that is about it. If you need some quick work done, then this is the best thing that you can keep in your garage, as it is small, doesn't take much space and helps you with all sorts of work as well.