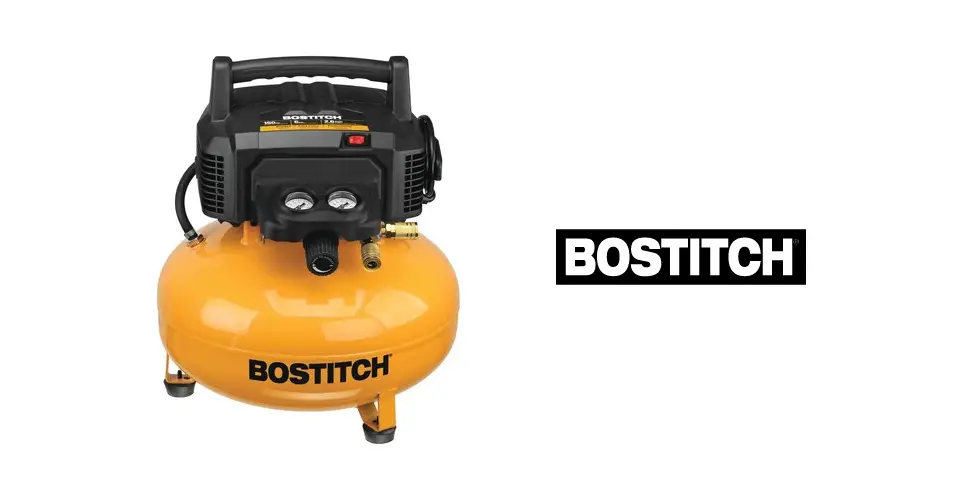 DISCLOSURE: This post may contain affiliate links, meaning when you click the links and make a purchase, I receive a commission. As an Amazon Associate I earn from qualifying purchases.
Bostitch is the go-to brand if you are looking for an air compressor having good power and a smaller size. The air compressors made by Bostitch are of extremely good quality and you are going to love the experience that you can get with the Bostitch.
These air compressors are simply amazing in terms of durability, power and applications and there are hardly any negative points that one might be able to find while talking about the Bostitch air compressors.
Bostitch 6 Gallon Air Compressor Review
Here are a few notable things that you should know about the Bostitch 6 Gallon Air Compressor:
Power
The Bostitch brand itself is known for the power and this 6 Gallon pancake air compressor is the right reflection of it. The air compressor allows a pretty seamless experience for all the needs that you might have and you will be able to get the right power delivery on it as well.
Surprisingly for its size, the air compressor can give the output air delivery of max 150 PSI that is pretty amazing. It can also go up to 2.6 SCFM @ 90 PSI that would ensure you to work with all sizes of air tools that you need to run on the air compressor.
The 6 Gallon tank can easily be filled under 5 minutes for you, so there is not much that you will have to worry there, and the power is enough to not make you wait between the work that you might need to do.
Operations
Operational part of the air compressor is second to none. It has a high-efficiency motor on it that runs without any oil so you will not have to worry about the maintenance aspect either. The best part about having this motor is that it is designed to work in the cold atmosphere as well, and while other air compressors might stutter or have problems running in the cold, this one will start up without a single issue on it.
Coming to the sound part, the air compressor produces only 78.5 dBA while operational, and that is nothing when you compare it with the other air compressors of this league. This will ensure a noise free working environment for you all day long, and you will be able to use your air compressor to its full without having to worry about any excessive noise or vibrations on it.
In addition to all that, the gauges and valves are conveniently placed so that you can take a look at them with a single glance and will not have to worry about a thing on that part either. This air compressor is simply the best thing that you can get in this size.
Applications
From working some smaller air tools to airbrushing, inflating those tires and balls and a lot more. A lot of mid-scale applications can be handled by the air compressor pretty easily. This way, if you are not intending on using the air compressor commercially, you can use it without a single worry for all sorts of applications.