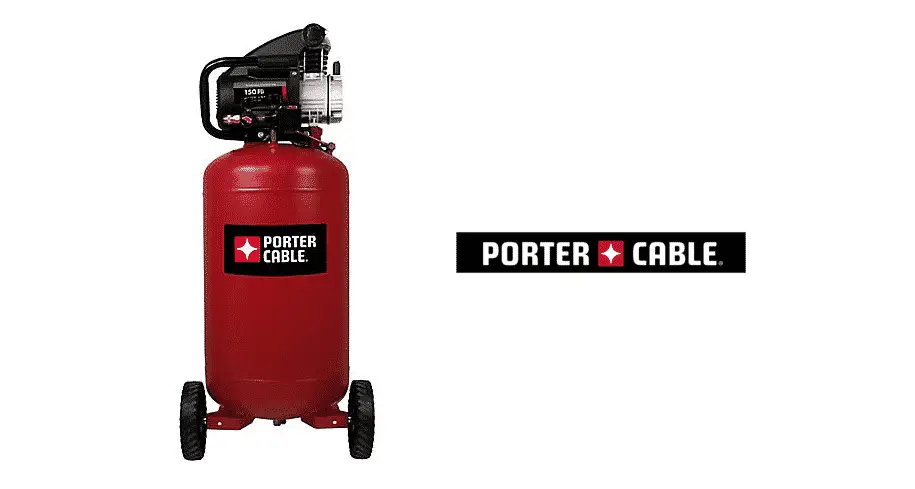 DISCLOSURE: This post may contain affiliate links, meaning when you click the links and make a purchase, I receive a commission. As an Amazon Associate I earn from qualifying purchases.
Porter Cable is the best thing you can get for all sorts of needs might have. They are making a wide range of air compressors with different power and storage combinations that might be right for you according to the requirements you might have from an air compressor.
This 24 Gallon vertical air compressor is one such heavy-duty air compressor from the Porter Cable inventory that you must consider if you are looking for something durable and that will last you for years.
Porter Cable 24 Gallon Air Compressor Review
Power
Starting with the power on this 24 Gallon air compressor, it can produce a maximum of 1.5 HP running at 150 PSI max pressure and that is pretty much enough to get the job done. All that power will help you in using the air compressor for all sorts of power tools without having any sort of issues or problems like power loss while you are working.
The best part is that 1.5 HP motor allows the compressor to fill up the tank within 6.5 minutes that means you will not have to worry about the gaps while you are working if you keep the air compressor running all day long. This way, you can have the best edge of power and use the air compressor any way you feel appropriate.
Applications
The air compressor is widely being used for all sorts of agricultural, hobbyists and some other mechanical and domestic applications. It basically got the right power that is enough for any sort of mid-level applications that you might want to throw the air compressor's way.
Not only that, but the best thing about having the air compressor from Porter Cable is that all their motors are heavy duty and the power allows leaves it for you to decide what you want the air compressor to do for you.
You can use this 24 Gallon air compressor for Air Brushing, Blow Cleaning, Leaf Blowers, Snow blowers, Bolting, Wrenching and a lot more. The air compressor can also be used with some other tools that are used for cutting, nailing, finishing and grinding.
This way, you will never have to wait for getting the work done and everything that you need to have done can be settled pretty easily with the help of this air compressor.
Maintenance
The air compressor comes in a vertical shape and is pretty easy to maintain. The best thing is that it has rubber tires that will never go flat so you can move it around easily and store it at a dry place where no direct sunlight is getting on the air compressor.
In addition to that, you just have to take care of one more thing precisely and that is the oil. The compressor is oil lubricated so you will not only have to make sure that the oil level is at optimal at all times, but also change it regularly so that there are no problems or wear and tear inside the motor that can cause you to have problems.