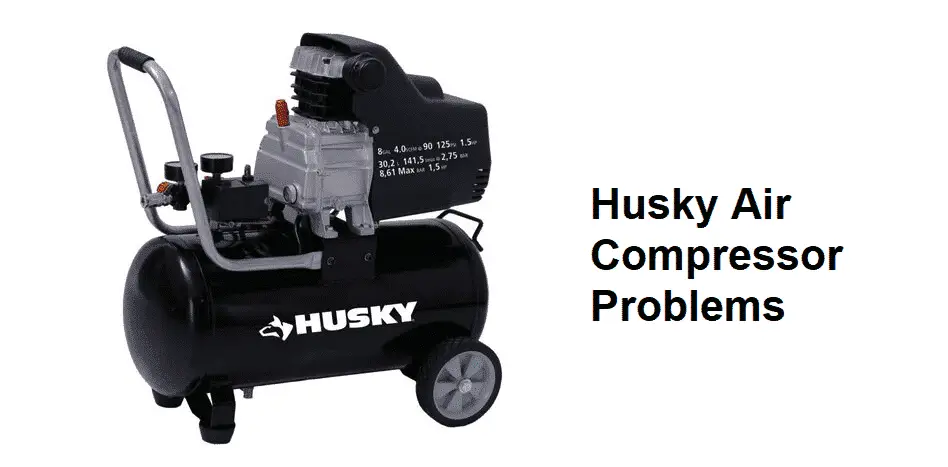 Husky Air Compressors are known as the name of durability in the industry as they make the right compressors to meet all the needs of people and for multiple industry uses. Their Air Compressors are not only highly durable, but they are also a pretty great choice for you to have if you are looking for Air Compressors that can work under different conditions and are perfect for multiple applications.
Not only that, but these air compressors will not break down under stress and they are known for working better under the toughest circumstances that you might put them through.
Husky Air Compressor Problems
Husky Air Compressors use cutting-edge technologies and top-notch engineering. However, there are some problems that you might have to face if you are using the Husky Air Compressors. A few of these common problems that one might have to face with the Husky Air Compressors and their solutions are:
1) Pressure Valve issue
One of the most common problems that you might have to come across if you are using the Husky Air Compressors for any sort of application that you might have planned for you is the pressure build-up issue. The pressure might not be building inside the tank due to the reason that your pressure valve might not be in the optimal state that is required to get it running.
You need to unscrew the pressure valve on the air compressor and clean it off properly. Then you need to plug it back tightly and check for the pressure. If that doesn't work out for you, you might need to replace the pressure valve as it can get damaged and a replacement from Home Depot will get you the perfect solution to this problem.
2) Air Intake Issues
The issues with the Husky Air Compressors are simply not that big and you can get them solved pretty easily. The second most common issue that you are going to face with the Husky Air Compressors is that they might not get proper air intake as they should and that can eventually cause you to have problems.
To solve the problem, first of all, you will have to make sure that the air inlet of the Air Compressor is not blocked by anything and that it is not certainly clogged due to some reason. Make sure that it is pointed towards open-air from where it can suck the right amount of air and that is going to help you out perfectly with the scenario.
Secondly, you will also need to check on the air filter as a clogged or dirty air filter can also cause you to have problems with the intake on your Air Compressor. You just need to make sure that you are checking on the filter and cleaning it if you feel it can be cleaned. If you feel like the filter is clogged or dirtier, you can always get a replacement and that will help you get rid of the air intake problem in the right manner.
3) Voltage sensitivity
Another thing that you must be careful about while using the Husky Air Compressors is voltage sensitivity. You don't have to do much in order to take care of this problem, as it is simply about the compressor electric parts are a bit more sensitive and they cannot take much voltage or current fluctuations.
To avoid having some major problem on the main circuit board or the ECU of your air compressor, you need to ensure that you are using a good quality voltage stabilizer that can avoid these voltage fluctuations damaging the electric circuits on the Air Compressors. Just make sure that you are getting a voltage stabilizer that is optimally compatible with the voltage ratings of your Air Compressors.
You can get the right guidance from Home Depot as to which Voltage Stabilizer would be perfect to go with the model of Air Compressor that you have for you. This way, you will not have to face any sorts of issues after this and your whole experience with the Husky Air Compressors is going to be flawless.