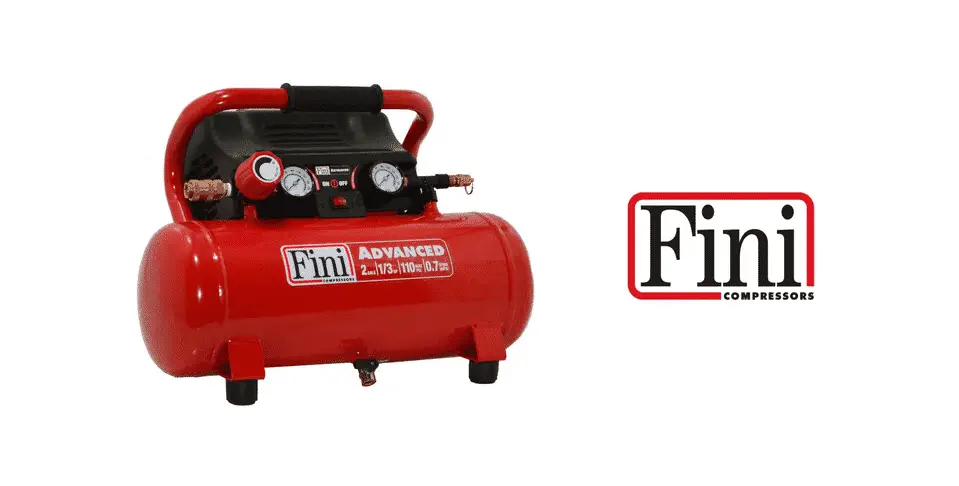 DISCLOSURE: This post may contain affiliate links, meaning when you click the links and make a purchase, I receive a commission. As an Amazon Associate I earn from qualifying purchases.
Air compressors are devices that suck up air from their surroundings into their tanks. This is then pressurized using the motor present on them. Afterward, users can blow out this air for a bunch of stuff. This includes using the device for air tools or just for cleaning up the dust. There are a lot of uses for this product ranging from industrial use to simply home use.
Although, you should note that it is important to consider what you are going to use the compressor for before you purchase it. This will help you out in getting the perfect size while you can still work without any trouble. One of the best air compressors that come in small sizes is from Fini. If you are confused about purchasing this product, then this review about the Fini 2 Gallon air compressor should help you in deciding it.
Fini 2 Gallon Air Compressor Review
This air compressor from Fini can hold only 2 gallons of air in its tank as the name suggests. This shows that the device is made to be used for small projects only. These include blowing air in your tires or using airbrushes with them. The air compressor comes with a bunch of items included with it. These include a nail gun, a hose as well as a stapler gun. You can easily attach or detach them from the device without any problem and even test them out to see how they work.
The maximum power rating on this product is a maximum of 110 PSI. Which is quite amazing when you see how small its size is. Additionally, you can even change them by installing different plugs on them. This allows users to use the air compressor for different projects easily without any worry. Aside from this, there are a bunch of gauges on the top of this compressor. These tell users about how much air is in the tank as well as what pressure it is running on.
Having a check on these things all the time makes it easy for users to work without any trouble. Aside from this, the low weight of this product allows users to easily move it around without any trouble and even store it up when not needed.  Although, the design of this compressor can make it a little awkward to store up. Considering this, you should make sure that it does not get damaged. This can be quite dangerous.
Warranty
The product also comes with 2 years warranty. You can claim this if your device starts to run into any problem. This can be done by contacting the company on their helpline or by leaving them an email online. They should then check if your air compressor falls under the terms of their warranty and should be able to provide you with a fix. While having a warranty is great, most users who have bought this product have rated it positively. Moreover, the life expectancy for a product like this is usually up to 30 years easily.