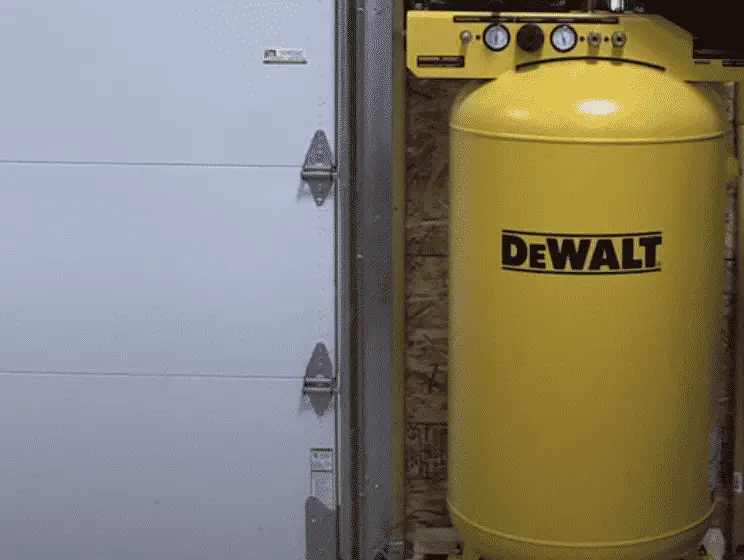 DISCLOSURE: This post may contain affiliate links, meaning when you click the links and make a purchase, I receive a commission. As an Amazon Associate I earn from qualifying purchases.
DeWalt is a famous American company that focuses on designing and manufacturing power tools. Additionally, they also make hand tools, all of this equipment is made mainly for construction or industrial use. The company is a trademark brand registered by Black & Decker. One of the best things that they sell is their air compressors.
These devices are used to trap air from the environment. It is then pressurized in the tank using motors. Some models use gasoline while others use diesel to power up the compressor. You can then use this pressurized air depending on your usage. They can either be used for paint jobs or for cleaning up stuff instead.
DeWalt 80 Gallon Air Compressor Review
If you want to use an air compressor for industrial use then you might have come across the DeWalt 80-gallon air compressor. This is one of the best compressors in this range has a ton of useful features. You might be thinking about purchasing one for yourself. However, it is essential that you know everything about these before you decide to get one. This will help you later on because the specifications of air compressors are important when it comes to your usage.
While smaller models are good to be used at home and do not require much knowledge needed about them. You need to take several things into consideration if you are getting an air compressor of this size. The main power source that this tank requires is electricity. You need to power it up using an electrical cord. The tank size on it is 80 gallons as the name suggests. Additionally, the tank gives an amazing pressure rating of 175-PSI.
PSI refers to pressure rating and helps the user understand how much pressure the tank is capable of holding. Aside from this, the air compressor offers two different modes. These can be switched easily through the machinery and offer separate powers. One of these allows the user to run their compressor at 100-PSI while keeping a CFM rating of 22.1. While the other one allows the user to maintain a CFM rating of 21.2 while keeping the PSI at 175. Although, in order to run the compressor at maximum power, you need to have stable 230-volt power.
These different modes help you in controlling the pressure for multiple types of uses. But you should keep in mind that the user will have to use separate paint guns for these. This is because paint guns are designed to run at a specific CFM rating. This rating shows how much air is flowed from the compressor in an area. The higher this rating is, the more area your compressor will end up covering.
Features
The compressor also provides users with a number of different features. One of these is the horsepower on it. While most heavy air compressors made for industrial use provide only up to 6 horsepower. The DeWalt 80-Gallon is capable of outputting a massive 7.5 horsepower. The compressor is also equipped with a compressor that has 2 stages.
This unique design allows it to power up more than one device at a time. This means that you can work more efficiently and cover-up doubles the amount of surface area than you would usually. Another great thing about this compressor is its piston and pump design. These allow the machine to stay cool even under a lot of loads. This also means that your compressor will end up staying cool even if you decide to keep it running for long amounts of time. This usually comes in extremely handy if you are thinking about using the equipment for a large-scale project.
The pump on this compressor is also kept cooled through its metallic guard. The material used for the overall build of this compressor is highly durable. The company ensures that users won't run into any problems with their equipment. Additionally, it will also end up lasting for a long period of time. If you are an industrial user or tradesman then the DeWalt 80-Gallon compressor is one of the best devices that you can purchase. It will help you in both workings efficiently and will prove to be a reliable option.