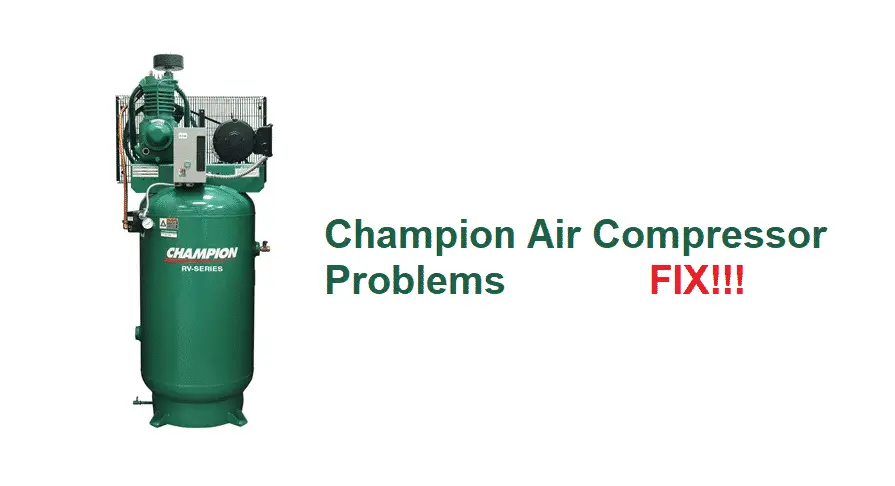 Champion Air Compressors is yet another cool brand that is making some medium and large-scale air compressors that are being used for all different sorts of purposes and applications. These air compressors from Champion are pretty sturdy, durable and they get the job done without causing you many problems on them. However, there is no air compressor that you might be able to find that can go without due maintenance and you need to take care of certain things in order to keep getting it right and making it work.
Champion Air Compressor Problems
There are not many problems with these air compressors and they are pretty rigid, even for those heavy-duty usages that you might need. These air compressors can go perfectly for all sorts of commercial applications that you might have planned for them. Although, there might be some problems on and off that you might have to deal with. A few minor problems that you might face with Champion Air Compressors are:
1) Oil Leakages
You might have to face some oil leakages on and off and they might cause you some serious trouble on the air compressor that you are using. It is pretty simple and there might be three major reasons that can cause you to have the lubricant leak on your Champion Air Compressor.
First of all, there might be some loose nuts and bolts and that is not something that you have much to worry about. You will have to check on all the bolts, especially the ones that you have on your oil chamber. That is going to help you out in the right manner and you will be able to make it work covering all the leakages that you might be having on the oil chamber.
Secondly, you might be using some thinner oil than is required and that is some serious trouble that you might be facing. You need to ensure that you are getting the right viscosity of oil and that is going to help you out in fixing the oil leakage problem. Just consult the owner's manual or contact the Champion Air Compressors to help you in picking the right oil for lubricating the motor.
If you have checked both of the above, there might be something wrong with the rubber seals or the gaskets that might be causing you to have this trouble. You will need to get that checked with a technician and until you can do that, just keep a close eye on the oil levels and keep topping up the oil so that it can work right for you.
2) Belts Noise
Belts noise is not something that might be new for those who are using these air compressors with the belts on them. Although this is not a big problem to being worried about, the noise and all that squeaking can cause you to have some nuisance that you don't want.
These belts are made of rubber and they can get hard and cause all those noises for you. You will have to ensure that you are using the right rubber belts on your air compressor and you are going to get that fixed in the proper manner. You need to get the belts of the right size, lubricate them and keep the moisture off them for good. There might also be some other issues that you can face on the belt as too much friction can cause wear and tear on them that you wouldn't like to have and the belts can break.
3) Rattling Noise
You might have to hear some rattling noises on the air compressor and they are noisy, inconvenient, and might be an early sign of some big problem that might be developing on the air compressor. To get that in order, you will have to check on all the nuts and bolts and tighten them. This will help you out in the perfect manner most of the time and you will have the perfect experience with your Champion air compressor again.
If the problem is not fixed, you will have to make sure that you have the air compressor installed on a flat surface and that will be getting the job done. In the worst-case scenario, it can be some motor part that you will have to get opened and checked.