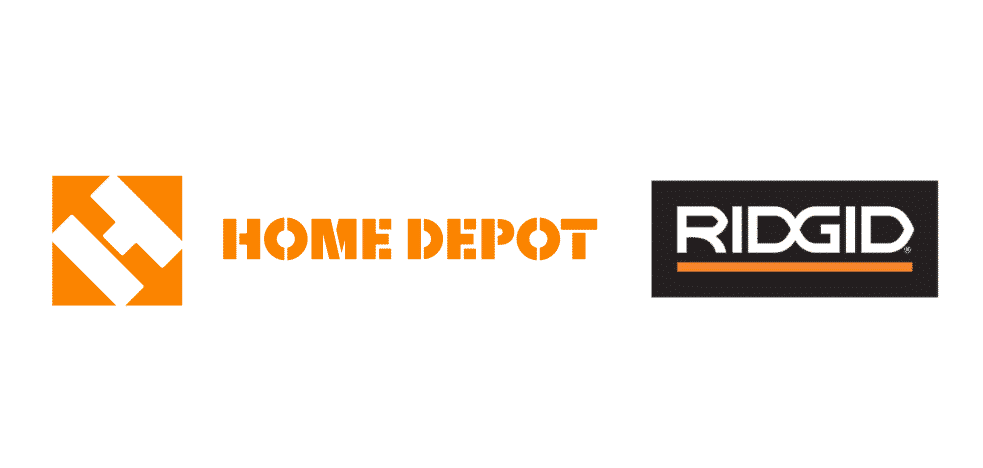 Ridgid is the brand to go for, if you are looking for some smaller air compressors for domestic applications or if you are a hobbyist only. They are not focused mainly on the larger or commercial scale air compressors, and that devotion towards the smaller air compressors allows them to have the top-notch quality that one can ever ask for.
Not only that, but there is a lot more to it. Ridgid is all about durability, efficiency and portability. They are employing some state-of-the-art technologies to make their air compressors smaller, more durable and efficient than any other competitor out there in the market.
Best Home Depot Ridgid Air Compressor Review
If you are looking for something small with the right features on it that you can use for all different sorts of applications, you definitely need to consider Ridgid for yourself. A few such options that you can choose from Ridgid if you are looking to get your hands on something quiet, powerful and portable that are available on the Home Depot Website are:
1) Ridgid 4.5 Gallon Portable Quiet Air Compressor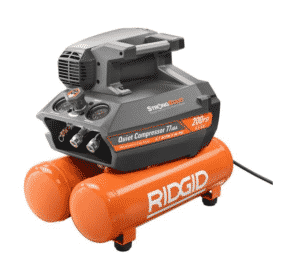 Ridgid is known for the smaller size of their air compressors along with the maximum portability access and that is why you are simply going to love having this air compressor for all the different sorts of applications that you might have.
The air compressor got STRONGstart technology that is specified for Ridgid air compressors and that allows you to have peace of mind that your air compressor will start on any job site without causing you any problems with the startup.
It also means that the air compressor can easily be started even in the negative temperatures and other stuff like that so there is nothing to be worried about on the startup part. Moving forward, it got a quiet compressor technology and produces only 77 dBA while running at its fullest. The quiet technology will help you to use the air compressor pretty easily without having any sort of issues with the excessive noise.
Coming to the performance part, the air compressor got a twin tank design that makes the weight distribution and portability a whole lot better. In addition to that, this air compressor is capable of producing an output of 200 PSI maximum, so you will never be running out of power while you are working on some job or project with this air compressor.
This 4.5 Gallon air compressor got two push to connect couplers on it, so not that you can easily connect different air tools with the compressor, but also run two different tools simultaneously without facing any sort of power losses.
The housing of the pump is made up of rigid plastic that can take a bit of wear and tear pretty good and will not break easily, keeping your compressor components safer. There is also a handle on the top that is going to help you with lifting the air compressor single-handedly and move it around the places where you need to have the work done.
Link: https://www.homedepot.com/p/RIDGID-4-5-Gal-Portable-Electric-Quiet-Air-Compressor-OF45200SS/300779816
2) Ridgid 6 Gallon Electric Pancake Air Compressor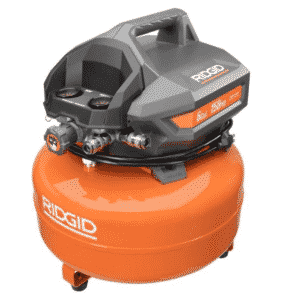 If you are looking for something with a single tank, or require more than 4.5 Gallon of storage capacity, then you should definitely be choosing this pancake tank air compressor from Ridgid that can hold the 6 Gallons of compressed air pretty easily and make it all work for you.
The air compressor got 2 universal push to connect quick couplers that allow you to attach a number of air tools with this compressor including industrial, mechanical and construction plugs. The air compressor can give an output of 150 PSI maximum and that would be enough to get most of the mid-range applications sorted out for you.
Moving forward, the air delivery is 2.6 SCFM @ 90 Psi for maximum performance no matter what air tools you have planned to use with this air compressor.
The design is pretty great, and pancake air compressors have been a great success for their optimal stability, and performance. Similarly, this air compressor got the right vibes from a pancake air compressor and on the same time, it got the durability, reliability and efficiency that Ridgid is known for. The air compressor got an oil-free motor that would virtually mean no maintenance at all when it comes to taking care of the pump that you have on your air compressor.
Link: https://www.homedepot.com/p/RIDGID-6-Gal-Portable-Electric-Pancake-Air-Compressor-OF60150HB/303379052
3) Ridgid 18 V Li-Ion Cordless 1 Gallon Air Compressor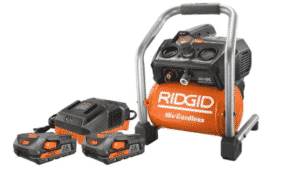 Ridgid is the pioneer when it comes to portability and this air compressor from Ridgid is going to help you with getting all sorts of applications done in the perfect manner even if you are not able to find a power source. The air compressors run cordlessly with the help of batteries and have a storage capacity of 1 Gallon.
The batteries are pretty good and they can power the air compressor rightly to get the job done for you and get you out of tough situations. It has the signature Ridgid housing on the motor to keep the components inside and all the batteries connected with it safely.
Once fully charged, the air compressors can drive up to 1200 nails with a brad or finish nailing machine. Yet, that is not all and you can use this air compressor for a whole wide range of different applications that you can think of, or might need this air compressor for. Overall, the air compressor got a sturdy handle connected to the storage tank and that will help you lift it off and take it to all the places without having to face any hassles at all.
Link: https://www.homedepot.com/p/RIDGID-18-Volt-Lithium-Ion-Cordless-Brushless-1-Gal-Air-Compressor-with-2-2-0-Ah-Batteries-and-Charger-R0230B2KN/305986955
Conclusion
Ridgid is the best choice for any user who is looking for stability, durability, and portability at the same place in an air compressor. Efficiency is always a plus and these air compressors from Ridgid got all of it. You just have to read the review about these top Ridgid air compressors that are listed on the Home Depot Website and make your purchase decision accordingly.