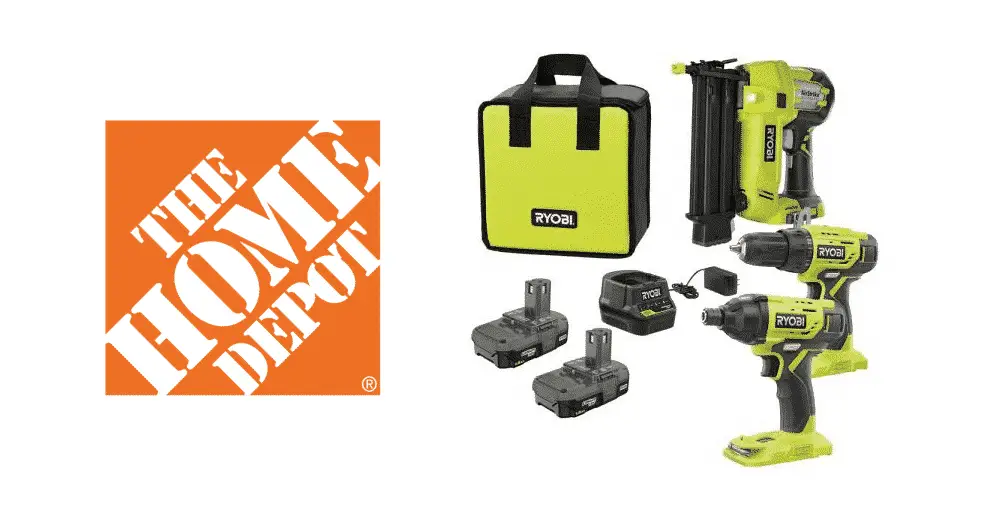 Nail Gun is one of the basic accessories that is a need for every household, mechanical workplace, or construction worker. With the help of a nail gun and air compressor combo, you can get the work done within a few minutes with the least effort, that would have taken hours and a lot of hard work otherwise.
That is why, most people who are not just looking for an air compressor to inflate the tires and other lawn toys, prefer to have a combo that comes with the nail guns so that they can use it for a wide range of applications when it comes to that.
There are a number of options to choose from, so it is always better to have something that you can use for a wider range of applications as you never know what is coming your way.
Best Home Depot Air Compressor Nail Gun Combo Review
These combos of air compressors with the nail guns are not only highly efficient and can get you out of some of the tightest corners, but are also highly economical and you will be saving a lot of bucks as well with these air compressor combos.
There are multiple nail gun combos available on the Home Depot Website that you can check out and choose from. These combos come from different brands, and some of the best options among them are:
1) 6 Gallon Air Compressor with Brad Nailer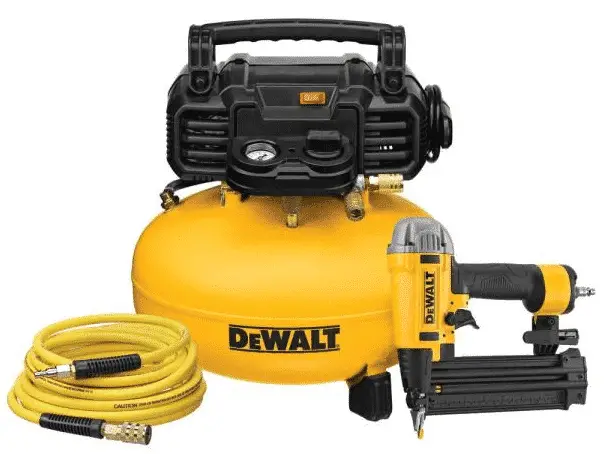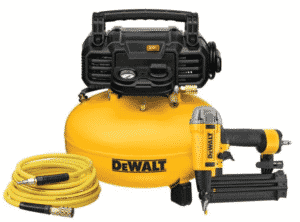 This is one of the coolest combos that you can find on the Home Depot website and it simply couldn't get better than this. With this combo deal, you are getting a 6 Gallon pancake air compressor from DEWALT that is one of the leading brands in the world of air compressors and are offering pretty decent deals on these air compressors.
All the air compressors that you can get your hands on from the DEWALT are offering the right balance of power and storage capacity. This air compressor allows you to have the output of 165 PSI max that is not only enough to run the brad nailer all day long, but there is a lot more to it. This power will make it easier for you to run some other air tools simultaneously with it.
The overall noise rating on this setup is 75.5 dBA so you will be enjoying a quieter work environment with the convenience of getting the work done faster and easily. The brad nailer uses the standard 18-gauge nails ranging from 5/8" to 2-1/8" length, and that makes the applications for this air compressor and brad nailer virtually limitless for you.
You can use the combo for fencing, getting the woodwork done around your home, or any other nailing application that you might be able to think of. The air compressor is oil-free so you can expect least maintenance and optimal durability from it.
Link: https://www.homedepot.com/p/DEWALT-6-Gal-18-Gauge-Brad-Nailer-and-Heavy-Duty-Pancake-Electric-Air-Compressor-Combo-Kit-1-Tool-DWFP1KIT/312030412
2) Porter Cable 6 Gallon Air Compressor with 3 Nail Guns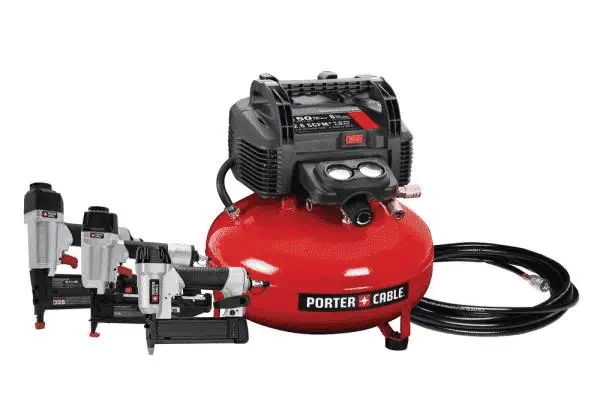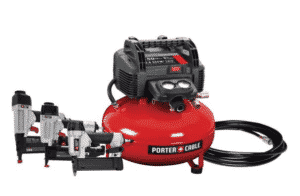 This air compressor from Porter cable might look pretty much the same, as it also has the pancake style storage tank that can house 6 gallons of compressed air, but there is a lot more to this deal.
Talking about the air compressor, the air delivery output is 150 PSI maximum, and there are two quick couplers as well so two users can simultaneously operate this air compressor and use different sorts of air tools with it to get the work done faster and without any major hassles at all.
The minimal weight with merely 30 lbs. on it makes it easier for you to carry the air compressor around and make it work for all different sorts off applications that you might have on your mind. Not only that, but it can give an output of 2.6 SCFM @ 90 Psi pretty easily and that does not only make your power delivery optimal, but is the best thing you can have for a quicker recovery time.
Coming to the affordability and utility part, this combo doesn't only have a single nail gun, but there are optimally 3 nailers included with the deal. You are going to get a 16 Gauge, 18 Gauge and 23 Gauge nail guns with the combo, and that would make your whole experience just perfect for all the different sorts of applications that you might need the air compressor for.
The combo is priced competitively and that is why, you don't have to think much either. With the optimal durability from porter cable and all this valued stuff that you are getting, this is a must have option for those who have to deal with nailing on regular basis.
Link: https://www.homedepot.com/p/Porter-Cable-6-Gal-150-PSI-Portable-Electric-Air-Compressor-with-16-Gauge-18-Gauge-and-23-Gauge-Nailer-Combo-Kit-3-Tool-PCFP3KIT/312030570
3) RYOBI 3 in 1 Kit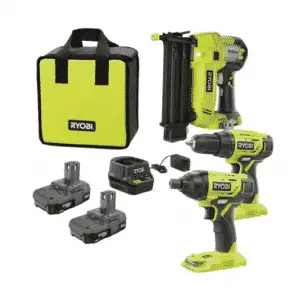 It doesn't get any better than RYOBI if you are looking for something that is practical, portable and can work without cords as well. RYOBI is making some of the best air tools that are battery operated, that will make it perfect choice to use for you on such places where you don't have the convenient access to an electrical wall outlet to plug in your air compressors.
These air compressors are pretty handy and compact so you don't have to worry about the portability aspect either. This kit from RYOBI comes with a Drill/Driver, Impact Driver, and 18-Gauge Brad Nailer.
The handle or the main body of the air compressor is basically the same and you just have to change the front tool to make it work for all these different sorts of applications. This toolkit is the best purchase that you can make, as it includes a carrying bag, batteries and charger as well, so you don't have to worry about a thing once you make this purchase decision.
This air compressor is compatible with over 175 different air tools and that is another plus that you will be enjoying if you choose to have this one.
Link: https://www.homedepot.com/p/RYOBI-18-Volt-ONE-Lithium-Ion-Cordless-3-Tool-Combo-Kit-with-Drill-Driver-Impact-Driver-AirStrike-18-Gauge-Brad-Nailer-P1817-P320/314116813
Conclusion
These are some of the best combo deals available on the home depot website as they allow you to have access to the right tools like air compressor and nail gun, but are also the best value for the bucks that you are going to spend for them. You have to figure out your needs, and you can order any of them to start working on the job you have planned.