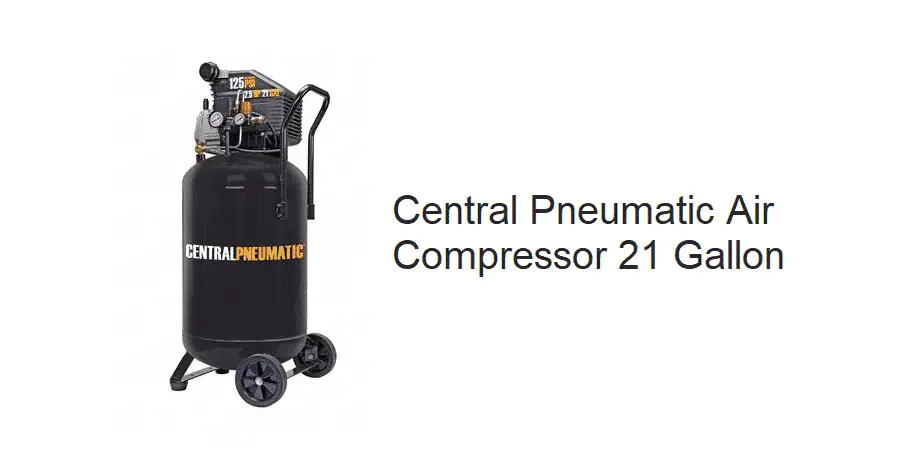 DISCLOSURE: This post may contain affiliate links, meaning when you click the links and make a purchase, I receive a commission. As an Amazon Associate I earn from qualifying purchases.
Central Pneumatic doesn't lack behind in terms of variety and they got a really wide range of air compressors that you get to enjoy. You just have to choose the one that might befit the needs that you have in mind for the applications that you need to get done.
Central Pneumatic got that 21 Gallon Air Compressor for you that comes in a vertical shape and it is pretty handy and easy to carry around for an air compressor of that size.
Central Pneumatic Air Compressor 21 gallon Review
If you need to know about the air compressor a bit more, here are a few things you must learn about:
Performance
The Central Pneumatic air compressor is the best thing that you can have if you are looking for something heavy-duty and that can get all those applications sorted out for you. The 2.5 Horsepower that you get to enjoy on this air compressor is pretty amazing in terms of performance and you can enjoy a stable experience. It has the right heavy-duty motor that comes with an oil level indicator window that allows you to keep an eye on how the air compressor is doing.
The motor is enough to fill up the tank in no time at all, so you don't have to face those gaps during the work and have a seamless working experience. It gets air delivery at 5.8 CFM @ 40 PSI and 4.7 CFM @ 90 PSI. So, this air compressor would be the best thing that you can have for those power-oriented applications
Operation
That is the best part of this air compressor and it is not only about the vertical design or the oil gauge window that you can get. It makes it easy for you to manage the oil levels inside the chamber and you will be able to get it going without any problems at all. The air compressor is made up for a convenient air house connection and a built-in quick coupler can sort that out for you.
Not only that, but it also has rubber foot stabilizers for reducing the vibrations from affecting the efficiency of the air compressor. The noiseless operation with easy maintenance will get you to enjoy the perfect and trouble-free experience with the whole air compressor working.
Durability
With the air compressor having a storage tank such big-sized, you might have some concerns regarding the durability, but there is not much to be worried about. Central Pneumatic is known for its durability and the best materials that they use for manufacturing. From the storage tank to the air compressor and all the other parts that are included, you get to enjoy seamless durability and there are not many major issues that are reported on these air compressors.
Central Pneumatic got it all covered for you when it comes to durability and safety. And if you maintain the air compressor good, they built it to last under extensive stress and you can use it for all the applications that you might have.