Home Depot can be the one-stop-shop for all the needs that you might have for your home and those tools that you are using to maintain the household. While you are dealing with the air compressors, you will need to be sure that you are not using some after market parts that are of substandard quality so that you will be enjoying a seamless experience with all the air compressors.
Regulator is one of the most important part of the air compressor as it is going to be the only thing that will help you regulate the pressure for your air compressor and the storage tank.
The regulator is also quite important as the wrong regulator can also cause you to have different sorts of issues like leakages, improper tank filling, wrong pressure distribution, malfunctioned output readings and a lot more.
That is why, you cannot simply get the pressure regulator wrong. It is always important to consult your owner's manual that comes with the air compressor to read all about the air compressor you are going to need in order to make it work.
Best Home Depot Air Compressor Regulator Review
A few of the air compressors that are quite good and you can source them from the Home Depot website are:
1) ½" NPT Metal FRL Air Filter Regulator
The air filter is named EXELAIR and is manufactured by Milton. This is one of the best airline systems that will help you with managing the compressed air without making a mess of it. Not only that, but the air regulator saves a lot of space for you as it combines the two most important features in one unit. The air regulator comes in metal housing that will allow you to be assured about the durability as it can take a bit of wear and tear without getting damaged or hurting the components inside that are crucial for making any air compressor work.
The best features about this regulator are not just limited to removing the dirt and condensing the water along with pressurize air lining, but there is a lot more to it. This regulator got the polycarbonate body along with the reinforced metal bowl so you get extended life span over the air compressor regulator and make the best use of it. In addition to all that, the inlet can take 145 PSI maximum pressure so you need to be careful about that. You can only use it with the air compressors that have pressure output rating of 145 PSI max or something lesser than that.
There are some other cool features that you will be enjoying on this pressure regulator such as 2 FRL systems for filtration and regulation so you can enjoy a truly seamless experience overall with the air compressor. The air compressor regulator also got auto-drain valve to bleed the air out of the tank if it is not in use for extended periods. Not only that, but you will also get a pressure dial gauge for monitoring and the lockout PSI knob for extra safety precautions and overall seamless experience with this regulator while you are using it.
Link: https://www.homedepot.com/p/1-2-in-NPT-Metal-FRL-Air-Filter-Regulator-EX45FR40A-04M/301836746
2) 3/4" NPT FRL Air Regulator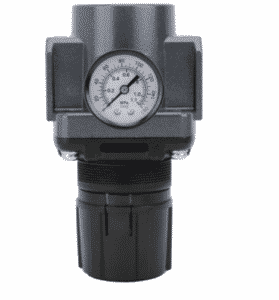 If you are not looking for something quite big, and your air inlet is the 3/4" of size, then you must be considering this air regulator to use with your air compressor. The compact size makes it easier to use with those smaller and portable air compressors that you might be using and have the perfect edge of filtration and regulate the pressure inside the tank. The regulator is also manufactured by Milton, and it helps you control and set the pressure to the air line so you can have the right output on the tools that you are using.
The materials are pretty durable on this regulator as well, and you get polycarbonate and reinforced metal bowl for the extended life of this air regulator. The inlet on this air regulator might be small, but that doesn't mean a thing when it comes to power delivery. The air regulator can take a maximum of 145 PSI and that is pretty much more than enough as you will be using it for the smaller air compressors mostly and that will make it work out perfectly for you.
Moving forward, you get a regulator and the gauge on it as well, so that you are able to monitor the output pressure at all times and ensure that you are not messing up anything when it comes to coupling it with those air tools or using it for any other applications. Most of the components that you get on this air regulator are replaceable so you can have a peace of mind that this is going to be a long-term investment for your air compressor.
Link: https://www.homedepot.com/p/3-4-in-NPT-FRL-Air-Regulator-EX55R-06/301836741
3) 3/8" NPT Polycarbonate FRL Air Filter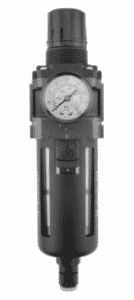 For those who are using these smaller air compressors for airbrushing on the canvas or to inflate the tires on their cars while on the go. This air compressor regulator might be just the perfect thing to have. With the 3/8" inlet, you can use it with the air compressors that are really small in size and support that outlet size to be coupled with this regulator. The regulator might not look much, but it is as efficient as it is compact and lightweight. Polycarbonate is used for manufacturing and that ensures you get an overall durable experience with the regulator.
FRL Duo technology is used on this regulator that helps you save space and don't compromise the portability or performance at any point. The max inlet limit is also 145 PSI for this regulator so you will need to be careful about that as well while using it with your air compressor. Of Course, there is a gauge to help you monitor the pressure ratings for smoother operations.
Link: https://www.homedepot.com/p/3-8-in-NPT-Polycarbonate-FRL-Air-Filter-Regulator-EX45PB40A-03P/301836752
Conclusion
These are some of the best air compressor regulators that you can get from Home Depot. Yet, you need to be mindful that the air compressors are not something to experiment with. It would be better if you consult the OEM of your air compressor for a suggestion and get the right recommendation on the pressure ratings from them before choosing a regulator for you.