For those not in the know, Kobalt air compressors are made for the Lowes Home Improvement store chain.
When using a browser to search for information on Kobalt air compressors, the returns will take you to http://www.kobalttools.com, which suggests that the Kobalt company is a separate company from Lowes. However, since the Lowes store locator is found on the Kobalt site this is likely not the case.
We infer that the Kobalt line of air compressors is still being built for the Lowes stores chain by a number of different air compressor companies, rather than being a stand-alone company owned by Lowes.
We know that at one time the Kobalt air compressors were made for Lowes by Campbell Hausfeld.
Coleman Powermate made the Kobalt air compressors some years back as well. Who makes the Kobalt line of air compressors for Lowes now? If you know who is making the Kobalt air compressors currently, please add a comment at the end of this page.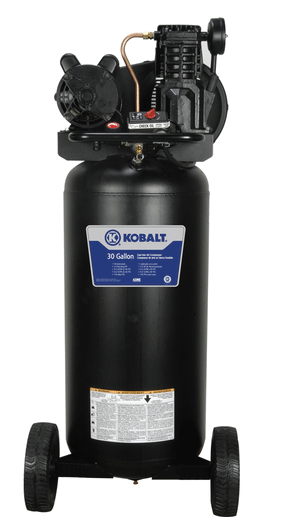 In 2014, Lowes offered 12 models of air compressors, 10 models of which run in size from 1 1/2 HP on different sized tanks through to a 5 HP on an 80 gallon tank. The other two are application specific tire filling models.
Who Fixes Kobalt Air Compressors?
Lowes sells Kobalt air compressors, they don't fix them. It does not appear as though there is any formal after sales service network for Kobalt compressors. Since the Kobalt line of compressors has been build by a number of different air compressor manufacturers over the years, knowing which company made your Kobalt compressor is always a challenge, so it is not easy for you to get to the manufacturer to try and find service that way.
What we suggest is that you visit the Lowes store where you purchased your compressor, and ask them if they have a local compressor repair shop where they send air compressors for repair under warranty. The store may or may not have such a source.
If no luck there, browse to find a compressor repair shop in your city. Many of the compressor repairs needed for air compressors such as the Kobalt are common to many brands and a good shop should be able to help you out.
Kobalt compressor manuals
Kobalt air compressors come with a manual when they are new. If you have an older model, with packing and paperwork long gone, or are acquiring a used Kobalt air compressor, getting a manual for it is important.
Kobalt / Lowes doesn't seem interested in helping customers with their Kobalt air compressors. No information is available from their website about compressor manuals.
If you can get the information from the Lowes store where you bought your compressor as to what company actually made the compressor you purchased, contacting that company will generally result in getting a manual.
If your Kobalt air compressor is a Powermate model, you can visit the Powermate manuals page, find the model that looks like yours, and download a free manual here.
 Your thoughts on Kobalt compressors
If you are using a Kobalt air compressor, others would be interested in your experiences. Feel free to add a comment.